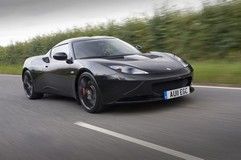 Lotus has finally managed to secure a cash injection from the government's Regional Growth Fund (RGF), having
previously failed to convince the government that it was worthy of support
.
Originally Lotus was looking for £27.5 million, but Proton, the firm's Malaysian parent company, has since reduced that figure to £10 million. That's also expected to be backed up by an estimated £200m of its own money over the next decade that will help Lotus realise its ambitious product plans.
Crucially, the RGF money will also help to ensure that the manufacture of Lotus products remain in the UK for the foreseeable future.
"This is great news for all those concerned about Group Lotus moving production overseas, to say that we're pleased with the result would be an understatement," says Group Lotus CEO, Dany Bahar. "We are an authentic British automotive manufacturer with an incredible heritage and an exciting future ahead, this funding will play a role in assisting with the realisation of our business plan to produce a new range of sports cars with best in class performance and emissions."
"We would like to thank everyone for their support during the bid process. The local authorities, MPs and the local enterprise partnership have all played a role in helping us secure this funding - we're very grateful, it's nice to know people feel strongly enough to act on our behalf."