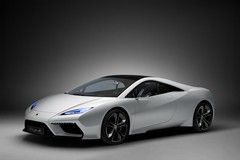 Update:
The winning bids for funding from the Regional Growth Fund have been announced, and Lotus appears to have been snubbed by ministers - at least in the first round - although Jaguar Land Rover, General Motors and Bentley have all been awarded cash to support planned investments.
Hopefully we'll have a comment from Lotus tomorrow (Weds), but meanwhile you can read the official announcement from the Department for Business and Skills here.
Update: We have Lotus's statement, hot off the PDF press...
"Yesterday (April 11th 2011) the Department for Business, Innovation and Skills' (BIS) confirmed that Group Lotus were unsuccessful in round one of the Regional Growth Fund (RGF) allocation. Despite the clear synergies between Lotus' growth plans and the Fund's objectives to enable private sector organisations to invest in projects that would create jobs and secure long-term growth, the bid team decided that the money was better invested elsewhere.
"Following this decision Group Lotus is currently exploring all available options including the possibility of submitting an updated bid for round two of the RGF, which is set to close on July 1st.
"Lotus' original bid application was for a £27.5 million loan which would have been put to good use in research and development crucially allowing Group Lotus to release capital previously allocated to R&D to build the new production plant therefore creating approximately 1200 additional jobs."
(Original article below - March 25th)
We'll find out early next month if Lotus is to keep all its production facilities in the UK, when the government will reveal whether or not it has approved Lotus's request for a cash injection to ensure the new Esprit is built in the UK.
Lotus applied for a chunk of cash from the Regional Growth fund back in January and, should it not get approval for it, could well move some future production out of Norfolk, starting in all likelihood with the forthcoming Esprit.
Government money, on the other hand, would make future Lotus production much more likely to remain in the UK, although even then word has it that Lotus won't rule out moving part of its production to the likes of Magna or Finnish firm Valmet.
One thing Lotus is firm on is that, whatever happens, Hethel will remain its HQ for engineering and R&D.But it seems that everything else is fluid, even though Lotus is avowedly keen to keep its manufacturing heart in the UK. And we won't know more for sure until the Regional Growth Fund makes its decision in the next week or so.