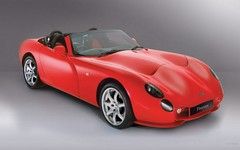 There have been rumblings of a return for TVR for a while, but the latest development in the Curious Case Of Nikolai Smolenski is a fascinating one: he now plans to resurrect TVR by taking original cars and re-engineering them with new engines. Including a six-cylinder BMW diesel (
Say what?? - Ed.
).
Last year we revealed that TVR owner Niklolai Smolenski was forging ahead with plans for an (almost) all-new model, called the MD-1, to be powered by GM V8 crate engines and based on the old Tuscan S chassis. The plan then was to have the new car rolling out (of an unspecified factory, mind) by the spring of 2012 at a rate of around 250 cars per year.
That may well still be the case, but in order to fill the gap between now and then Smolenski says he wants to 'convert' existing models such as the Sagaris or Chimaera to running more modern drivetrains. At least that's what he's told Dutch car magazine Autovisie.
"Our focus is primarily on converting existing TVR-models. If we want to start a production line we will have to sell at least 250 - 400 cars per year," says Smolenski. Autovisie reckons this is because Smolenski would need to find investors to fund the building and tooling of a factory - and for the moment he is funding TVR out of his own (admittedly deep) pocket.
The plan, it seems, is to use existing fibreglass shells and original chassis, but to drop in a new driveline. Autovisie reports that there are three possibilities here: the near-ubiquitous 430-ish bhp LS3 GM V8, the 282bhp 3.0-litre turbocharged diesel six most familiar in the 335d and - wait for it - an electric version.
Both internal combustion motors will be offered with manual transmissions only - a Tremec 'box, if you're interested - as Smolenski says there will be "no automatic or twin-clutch transmission - only a manual transmission fits the TVR brand" (the boy does talk sense sometimes it seems...).
As for the electric version, well there's not much detail on this other than that Smolenski is aiming at a 125mph top speed and a 240-mile range. "Developing this drivetrain is very complex. The batteries will be placed on various places in the car, for example instead of the fuel tank, just in front of the front wheels or behind the seats
The full conversion (for LS3 or diesel models) will cost around £33k, for which you'll get a new drivetrain, upgraded brakes and an updated dash. If you wish merely for a new drivetrain you'll be paying £16,400. Autovisie reckons that this brave new TVR dawn could begin in early 2012, with conversions possibly being carried out in Coventry. But this is TVR we're taling about, so you never know... either way, we suspect PH's own Garlick will not be offering up his Chim for BMW diesel treatment...
The most doffed of doffed caps go to Victor Kuijstermans for both spotting and translating the Autovisie story. Cheers, Victor!