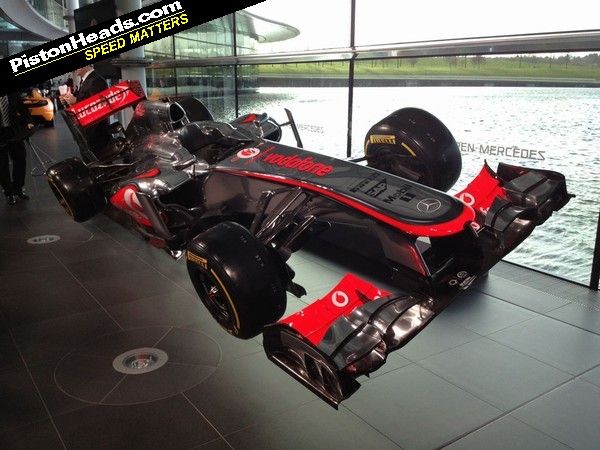 McLaren invited us over to its rather splendid – and, now, rather well-known – Technology Centre near Woking where, against the backdrop of the building's modern glass curve, the landscaped grounds and, of course, the lake, the team's new MP4-28 Formula 1 car was unveiled for the first time.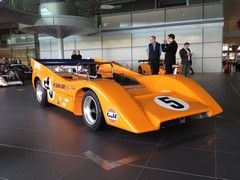 The M8D - a bittersweet milestone
To the untrained eye, the new car looks vastly similar to its predecessor – as is to be expected with regulations that remain largely unchanged. Of course, the MP4-28 is entirely new, with minute – but very significant – changes. So much so that, according to Martin Whitmarsh, the 28 is already quicker than the car that McLaren finished the 2012 season with, and that's before the weeks of testing that lay ahead before the first race in Australia on March 17
th
.
Of course, a new Formula 1 reveal doesn't tell us an awful lot about how good the car is – the proof of that particular pudding will come when the MP4-28 hits the track. However, there's further cause to celebrate as this year marks a half century in the business for McLaren – indeed, on the 2nd September 2013 it'll be 50 years to the day since Bruce McLaren first established his own Formula 1 team. And, as they put it, what better way to start the celebrations  than by wheeling out some of McLaren's most significant racers in a parade through the Technology Centre's atrium, complete with obligatory throttle blips?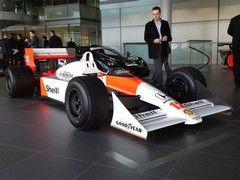 Senna's MP4/4: for many, the greatest McLaren
So this morning, we've been treated to the sight and sound of, in order, the M8D Can-Am car, in one of which McLaren himself lost his life testing at Goodwood in 1970; the M23 that, in Emerson Fittipaldi's hands, took the 1974 championship; Ayrton Senna's MP4/4, again a championship-winning car that provided epic some of the Brazilian's most famous battles with Alain Prost in 1988; the iconic F1 GTR; the MP4/13 that took Mika Hakkinen to his maiden world championship in 1998; and Lewis Hamilton's MP4-26, McLaren's most aerodynamically-complex F1 car ever. The parade ended with Checo and Jenson entering stage left in an MP4 and a disguised P1 - the latter quickly wheeled away before prying eyes could get too close a look.
Scrof's blog of earlier highlights the importance of racing teams like McLaren preserving their heritage, not only for their own commercial reasons but also to give historical context to those F1 fans who weren't around for their glorious past. It seems that McLaren is planning to make a big deal about that past this year, so you can expect to hear much more about it in the coming months. With a heritage this good, that can only be something to look forward to.