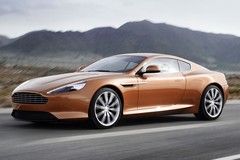 This is the Aston Martin Virage. It's a new super-GT and most definitely not a replacement for the DB9. (At least that's what Aston reckons, we'll have to see what this does to the DB9's sales figures before we believe them...)
Rather, Aston is placing the new Virage - which revives the 1990s model name - slap bang between the DB9 and DBS. Power from the 6.0-litre V12 is therefore pegged at 490bhp (exactly mid-way between the DB9's 470bhp and the DBS's 510bhp), combined with 420lb ft of torque. That translates to a 0-62mph sprint of 4.6secs and a top speed of 186mph.
Treading a thin line that's more focused than the DB9 but more refined than the DBS can be no easy task, but the Virage attempts this with a mix of refinements and sporting touches.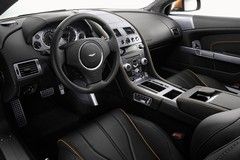 The standard-fit six-speed Touchtronic auto is a nod to a more relaxed driving style, for example, while the carbon-ceramic brakes hint at a more hardcore tone.
The Adaptive Damping System (ADS), meanwhile, has been tweaked to select up to five different stiffness settings within normal mode, and a further five stiffer settings within sport mode. A 'Sport' button on the facia also allows the driver to select a sharper throttle response, faster gearchanges, and means the gearbox holds onto ratios without automatically shifting up at the limiter.
Although in essence very similar to a DB9 (indeed, all Aston's creations stem from the company's 'VH' platform architecture), to distinguish the Virage from its V12 coupe brethren, Aston has borrowed the front lights from the Rapide, while a less fussy front bumper and side sills clean up the over look of the car. At the rear, a body-coloured blade within the rear diffuser helps to accentuate the width of the car.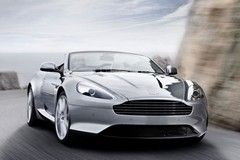 Inside, an integrated Garmin sat-nav with a simpler joystick control has been introduced (anybody who has wrestled with a recent Aston Martin navigation system can surely only applaud that). As well as sat-nav, standard equipment includes heated seats (Sports seats only), cruise control, and Bluetooth telephone preparation.
The Virage is anticipated to be priced at around £150k, in between the £125k DB9 and £175k DBS, something Aston Martin will confirm at the Geneva show, where the Virage will be on display alongside the new V8 Vantage S and the Cygnet city car.