Six hundred and thirty five horsepower. Even spelt out with the impact of the bare numbers lessened slightly, that's a ridiculous amount of power. It's the maximum output of Bentley's latest
, to be revealed at Geneva as part of a range refresh for the 2015 model year.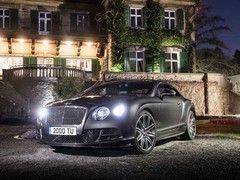 Speed numbers huge: 635hp, 2,320kg, 206mph
The Speed makes 605lb ft from its W12 as well, enough for a 206mph top speed (up 1mph on before) on the coupe and 203mph for the convertible. That makes the coupe the fastest production Bentley ever; it's also capable of 0-100mph in nine seconds. In a car that weighs 2,320kg.
Aside from the slight power and torque increases, the GT Speed is unchanged from previously. Did you know rear diffusers could be elegant? Well they are on the Speed, along with discrete side skirts and 'a dark tint finish' to the 21-inch wheels. Contrast stitching and a 'Speed badges' distinguish the interior.
Another new Bentley on show in Switzerland is the Flying Spur V8. Using the same 507hp 4.0-litre twin-turbo as already features in the GT V8, it sends the Spur to 62mph in 5.2 seconds and 183mph. Apparently the cylinder deactivation and intelligent thermal management of the V8 gives the Spur a range of 520 miles. There's an economy challenge to attempt...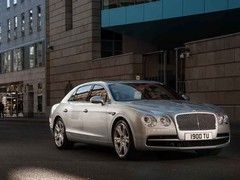 Flying Spur V8 makes do with 507hp
The same styling identifiers used for the coupe mark out the Flying Spur V8 from the W12. The chromed exhaust pipes are in a figure-eight shape, the Bentley badges get a red insert and the front grilles are black.
The introduction of the V8 Spur also means the Mulliner Driving Specification is available on the Continental saloon. It brings diamond quilted leather, drilled alloy pedals, larger 20-inch wheels and 'Jewel' caps for the fuel and oil. The man who looks after your Spur will be chuffed.
For further final indulgence, Geneva will also see Bentley introduce seven 'luxury tailored packages' throughout the Continental range. The gentleman selling your Bentley will do a far better job of detailing each pack but they are as follows: Premier, Interior Style, GT Classic, All-Seasons, Sport (for the V8 S), Classic Mulliner Styling and the aforementioned Mulliner Driving Pack. Phew.
We're told customers will receive their V8 Flying Spurs in the spring with the updated Speed arriving in the summer. Price info to follow, if you have to ask...