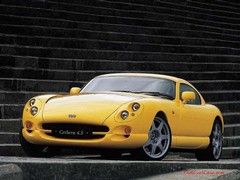 There'll be plenty of this...
Apart from the famous
PH Sunday Service
, there's only one place to be this weekend (especially if you're a TVR fan), and that's at the TVR ROAR show.
This annual celebration of all things fast and loud from Blackpool comes once again from the Moorside Grange Hotel in Stockport, Cheshire.
The fun kicks off on Saturday with a treasure hunt in the Peak District, and a car detailing lecture.
On Sunday there will be all sorts of other activities, including a TVR concept show, off-road buggies and laser clay pigeon shooting. There will also be a 'noisiest TVR' competition, a 'most powerful TVR competition', and live demos on the rolling road.
For those less committed to cars, the hotel will be showing World Cup football, and the hotel offers luxury spa treatments, (though pre-booking is required, so best to get your skates on with that one).
The action takes place over Friday evening, Saturday and Sunday. Although the hotel is fully booked for both the Friday and Saturday nights, there are places available at nearby hotels, so take a look at the ROAR website for more details.