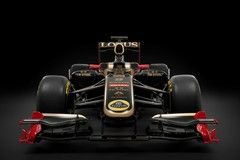 The new Lotus-Renault F1 team (that's the one that used to be Renault, by the way, not the other one) has signed up Bruno Senna, meaning that once again a black-and-gold Lotus will be piloted by a man bearing the famous Brazilian surname.
But before you get too excited, the nephew of the late, great three-times F1 world champion Ayrton Senna is unlikely to be taking the new-age Lotus to the top step of the podium - he's only been enlisted as reserve driver for 2011.
Still, it is a neat nostalgic tie-in - Ayrton was the last man to take the original Lotus F1 team to a win, back in 1987.
It's also probably a good move for Bruno Senna, too - his first season at the struggling Hispania Racing team was distinctly patchy.
"It's a really exciting opportunity from both Group Lotus and Lotus Renault GP," said Senna. "To be able to develop my Formula One career within a World Championship winning organisation and to do so in conjunction with some hugely interesting work for such an iconic sports car company as Lotus is a once in a lifetime opportunity. Lotus has placed a great deal of faith in me and I am looking forward to beginning work on the technical side of our relationship."