How to introduce the new Subaru WRX STI? Business as usual, from the gaping bonnet vent and towering rear wing to the slightly eccentric way the brand conducts its launch events. Revolution this is not.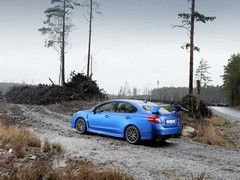 Those expecting revolution best move on
So before any driving the lengthy press conference. In typical Subaru style this is conducted in faltering English by a senior Japanese engineer flashing through detailed slides faster than you can take in. My notes from the presentation are pretty much as follows: "Steering rack 13:1, 150 per cen- ... torsional ... F susp springs 22 per cent, ARB 24mm ... R susp ... benchmarks Audi S3, Carrera 4 - WTF?! ... engine ... gearbox bushings stiffer ... steering better than 911, hahaha ... Evo? ... A-pillar 200mm ..."
We do establish that Subaru has data conveniently proving 79 per cent of people want a four-door petrol-engined car with a manual gearbox and 300hp. Who they surveyed for this crucial piece of intel is unclear but it's entirely possible they all had faded 555 bobble hats in a drawer somewhere at home.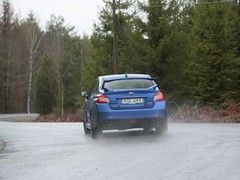 Wing standard in UK; adds 7kg to weight!
Is it actually a new car though? Well ... not really. There are significant changes to the structure, boosting torsional rigidity by a claimed 140 per cent, a 25mm wheelbase stretch and the A-pillars have been pulled forward by 200mm for a stance that's more cab-forward than traditional three-box. There are various tweaks to suspension settings, mountings and bushings too. But, fundamentally, it's the same old story. Blue paint. Big wing. Burbly exhaust. And yes, gold wheels on the options list.
Limited appeal
Given Subaru only expects to sell 1,000 WRX STIs per year across the whole of Europe, we're guessing the local importers are slightly more realistic about wider market trends. Saying that, the man from Subaru UK says two months' worth of supply has already been sold and the shift in exchange rates means the base price is now a more realistic £28,995 than the £30K+ for the old car. Dealer morale, he reports, has finally lifted off the floor.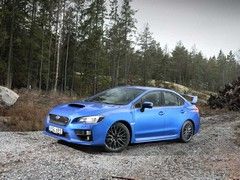 A-pillars pulled forward for improved visibility
From there we walk outside to an adjacent test track and the confusion continues. In our first few yards in the car the promised sharper throttle is hairtrigger sensitive. Even a small blip prompts eruptions of flat-four burble, this quiet corner of Sweden suddenly sounding more like a McDonald's car park in Romford, circa 1999. Still hydraulically assisted, the faster steering rack (now 12.7:1 compared to 14.8:1 of before) feels nervously pointy and the firmer springing a bit jittery. In our rush to fiddle with C.Diff settings confusion reigns and the net result is frustration expressed in howling power understeer in a maze of wizard hat cones. The final nail in the coffin is seeing the man from Autocar performing admirably extravagant skids ahead of us. I ask a gaggle of Subaru engineers how he might have achieved this. There is much nodding and discussion but further confusion about differentials. There's an awkward silence. In an attempt to keep the conversation going I tell them I used to own a 1995 WRX wagon and they all beam and then bow deeply but the language barrier prevents us going any further.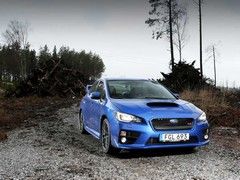 Core elements as familiar as the colour scheme
Charitably you'd say Subaru is sticking to its traditional values. Less so you'd say it's like the last 15 years didn't happen and the Germans didn't annexe the Impreza's territory with big brand respectability and realistic running costs. Back in the 90s an Impreza Turbo really was unique in its field. Now we've got
all offering 300hp-plus, daily usability and four-wheel drive all-weather dependability.
Then two things on the launch event bring the WRX STI back from the brink of irrelevance. It starts pouring with rain. And then we burble off into rural Sweden on some fabulous single-track roads, blessed with awkward cambers, patchwork surfaces of varying grip coefficients and sight lines that stretch kilometres ahead. The road undulates and twists over open plains, between bright red barns, rocky outcrops and sections of pine forest. Basically it looks like a tarmac rally stage, framed by A-pillars and the back of a bonnet scoop resplendent in WR Blue. It really DOES feel like the last 15 years didn't happen. In a good way.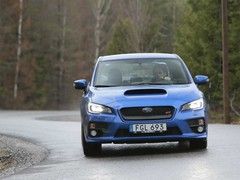 Wet Swedish roads play to the Subaru's strengths
Not so long ago we were mourning the end of the WRX STI, even taking one for
to Wales. But it seems the car is now back from the dead, the Subaru personnel reaffirming their commitment to fast cars with blue paint and big wings while realistic about ever living up to the glory days. It's a niche car for a committed few. But it is at least back in the UK.
Comfort zone
Away from the frustrating little handling track and into the Swedish heartland the WRX STI - it still takes a conscious effort not to write 'Impreza' - feels a lot more relaxed. There's still a spikiness to the springing and urgency to the throttle and steering response that wasn't there before but the core values remain true. So the pedals are still brilliantly placed for heel'n'toe, the ratios are close, the gearshift has a really positive gate and the engine spins freely and with renewed burbling character.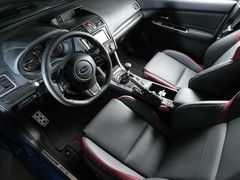 Plenty of kit included for £28,995 entry price
On paper the Germans seem have plagiarised what was Subaru's USP; turbo engines, four-wheel drive, 300hp and above all seem very familiar, if reimagined for a more mainstream audience. But delve a little deeper and the Subaru still defiantly does things its own way. The German turbo engines like to dump all their boost in your lap in one go but the short-stroke boxer has a very different character. In the Japanese fashion it needs revs, both to overcome the turbo lag and get into its mid-range comfort zone, and where the Germans are all done and ready for another gear the boxer is just getting into its sweet spot. Even if it calls time a little earlier than you'd hope. The 2.5-litre EJ series engine spins more freely than it did in its earlier guises but you still want for that faster revving Japanese market 2.0-litre and its 8K-plus redline...
If you're used to Imprezas of old you'll know just what to expect. However, if you turn up at the Subaru dealership having just driven a Golf R or Audi S3 you could well think the WRX STI feels a little slow out of the blocks in comparison.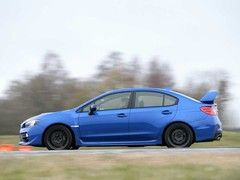 Good to have you back old friend!
It still has tricks up its sleeve though. The Germans all depend on reactive Haldex four-wheel drive systems which are much improved over earlier iterations but can't touch the Subaru's more sophisticated set-up. Indecisive about your favourite type of limited-slip diff? The WRX STI has all bases covered with a helical one up front, a viscous one in the middle (with active, computer controlled override) and a Torsen at the rear. Meaning you can have a Megane 265 style front end, pulling you into the apex on the power in the '+' setting on the centre diff. Or, VDC disabled and rain clouds aligned, some angle from the rear axle. It's not always clear how it'll react though; an early bootful of throttle on corner exit may give you an artfully balanced drift. Or stubborn power understeer. And only one of these outcomes looks cool.
At least you have choices though and Subaru is to be applauded for sticking by its guns and giving the hardcore of fans what they want. Yes, for just a few grand more an Audi S3 Saloon will seemingly do all that the WRX STI does with a badge more acceptable to the Waitrose car park than bonnet vents and a wing. But if you were worried about that you'd not be considering a Subaru in the first place.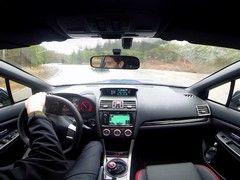 Repositioned A-pillars help sightlines in bends
No, where the WRX STI belongs is where it always has; in the forests, on wet, treacherous surfaces at pace in conditions where others would be backing off. As far as motorsport goes those forests are now in the Eifel mountains and on track in the 'ring 24 rather than here in Sweden on gravel, mud and snow. But the spirit remains. The WRX STI is a little pointier than before, a little faster in its responses and more refined than ever at carving its own niche in the fast car landscape. But still wilfully eccentric and single-minded. For many it's yesterday's news, left behind by a new generation of have-it-all premium all-wheel drive mega hatches.
And the congregation may be dwindling. The WRX STI preaches to the converted but if you're among the few determined to keep the faith you'll be glad of this particular resurrection. Amen to that.

---
SUBARU WRX STI (2014)
Engine: 2,457cc flat-4 turbo
Transmission: 6-speed manual, four-wheel drive
Power (hp): 300@6,000rpm
Torque (lb ft): 300@4,200rpm
0-62mph: 5.2 sec
Top speed: 159mph
Weight: 1,534kg
MPG: 27.2mpg (NEDC combined)
CO2: 242g/km
Price: £28,995 (OTR, before options)