Remember the BMW M135i? It's the £30K, 300hp hatchback that The Internet
arrived. The VW has rather usurped the BMW's position as the go-to premium fast hatch of choice thanks to its combination of all-wheel drive ease of use, assured dynamics and some, er, competitive lease deals. Since the M135i's introduction the market has also welcomed the
and most recently the new
. A tough sector populated by some very talented cars.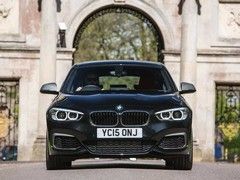 Well this is far better, right?
This is a BMW Life Cycle Impulse (LCI)
rather than an all-new car, the updates focused on exterior styling, standard equipment and efficiency gains throughout the range. For the M135i there's another 5hp to match the
at 326hp. Though no official chassis updates have been announced, BMW's PR man was keen to stress the constant evolution of products; the engineers "were always looking to make improvements", indirectly implying a little tinker here or there underneath. Interestingly too the eight-speed ZF auto has received a few tweaks, with a greater difference in behaviour between Comfort and Sport, faster shift times and Predictive Shift, using the nav to ensure the right gear for the upcoming corners.
And what of that updated exterior styling? We're hardly expert judges but in the metal the 1 Series works far better than in the pics. The 2 Series inspired front is a vast improvement and though the rear lights still look a little large they're not as bad as you may have first feared. Plus it can't be seen on the inside, right?
Six of the best
Unsurprisingly given the relatively minor revision, the M135i's USP and key appeal remains as it was before: the magnificent powertrain. Immediately the noise makes it feels more special than its four-cylinder rivals, and even in the face of new additions it feels very fast. Second, third and fourth are very closely stacked in the eight-speed auto, only enhancing the sense of indefatigable acceleration. The improvements to the ZF gearbox have made it yet better still, with very nice calibration too. Sport doesn't immediately kickdown at the merest brush of the throttle and Comfort is happy to hold gears if it senses some enthusiasm. The shifts are sharper than ever. It's a very hard gearbox to fault.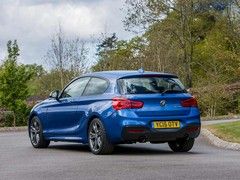 Reality here better than pics. Honest
The 332lb ft (52lb ft more than the Golf) can be relied on for fairly rapid progress but the M135i feels worth revving out still thanks to a willing nature and, again, that glorious soundtrack. Yes, it's artificially augmented but it's absolutely how you would want a straight-six turbo to sound.
However, regardless of any secret unofficial updates, the chassis still can't match the superb engine and gearbox combo. There's a disconcerting vagueness to the steering which makes grip levels hard to gauge at both ends with suspension that struggles to keep the car composed when pushing on. The M135i pitches and floats where you really need it to settle, even with the optional adaptive dampers at their stiffest. It's just doesn't inspire an awful lot of confidence, which is frustrating given that it feels quite benign when grip does subside. Appropriately enough it's the very opposite of a Golf R down a challenging road - the VW can be driven with almost reckless abandon and feels most enjoyable like that, while the BMW needs a far more considered approach with lower limits, at least on a greasy British road.
Manual labour
There was also opportunity to drive a manual car, an especially rare thing with just 20 per cent of M135i customers opting for it. To be honest, it's not hard to see why. The pedals are offset and it's the usual fairly notchy shift, while being less efficient than the auto. It makes the car feel considerably less frenetic, the pace of acceleration slowed slightly and the pauses between gearchanges of course much more noticeable. But it seems to fit the M135i's sort of mini-GT nature quite well, and there's still a great deal of satisfaction to deciding your own gears.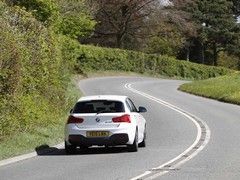 Good to drive, but not superb
Overall then the M135i remains a very charming car, even despite its flaws and the new rivals. It covers the same bases as an Audi RS3 for considerably less money and that engine would make it far more exciting day to day than das Golf. Yes it still lacks some handling precision, a point that the A45 reinforces, but this is not the fully-fledged M car - that's due at some point later this year. There's always the M Performance catalogue to investigate, as Harris did with
, until then. Just FYI the limited-slip diff is £2,520... The M135i isn't perfect, but it is interesting, unique and still very good value despite the Golf's arrival. Keep it on your (very) hot hatch shortlist.
---
BMW M135i
Engine: 2,979cc six-cylinder, turbocharged
Power (hp): 326hp@5,800rpm
Torque (lb ft): 332@1,300-4,500rpm
0-62mph: 5.1 seconds (4.9)
Top speed: 155mph (electronically limited)
Weight: 1,505kg (EU including 75kg driver, +20kg for auto)
MPG: 35.3 (NEDC combined, 37.7)
CO2: 188g/km (175g/km)
Price: £31,725
(Figures in brackets for automatic)