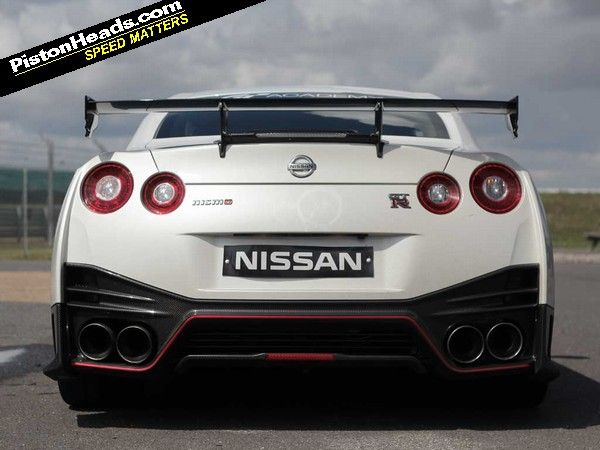 It looked so promising too. First the invitation to drive a GT-R NISMO around Silverstone's International Circuit (turn right at The Loop and directly to Hangar Straight instead of left back to the old pits and through Woodcote and Becketts) came in. Not going to say no to that. Then shortly afterwards an email from Mercedes-Benz World to ask if we'd like to try their new driver experience in the
C63 AMG Black Series
... around Silverstone International. Just two days later.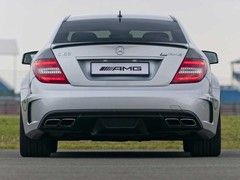 Same aims, different means
Opportunity would appear to have knocked for a bit of a scoop twin-test. After all, both are strictly limited edition six-figure specials teased and track prepped to up-sell from already impressive 'base' models costing two thirds as much. Both need to be pretty damned impressive, not only to convince fans they're worthy of the premium but also to tempt those who might otherwise buy a proper supercar rather than a jumped up coupe with bolt-on aero and ideas above its station. OK, so we wouldn't actually get to drive them at the same time. But the same circuit, just two days apart and one expansive enough to let track-honed specials like this really off the leash properly would surely give a chance for a cheeky head-to-head? Many a magazine cover feature has been constructed on flimsier foundations.
Only this is PH and we've got to come clean. We got a lap and a half in the NISMO. And just a little longer in the Black, on a track busy with meandering Silverstone 'experience' cars and in a car equipped with a fully plumbed in Jesus pedal and a chaperone unafraid to use it.
In the mould of Sniff Petrol's new American contributor Colby Dousche: full disclosure, it was a bit of a SNAFU and claiming otherwise would be a bit of a fib.
But let's claw what we can out of the wreckage. We did drive both cars around the same track. They are a fascinating comparison. And, frankly, we'd gone to the trouble of getting the photos. Daft not to attempt to get something from it.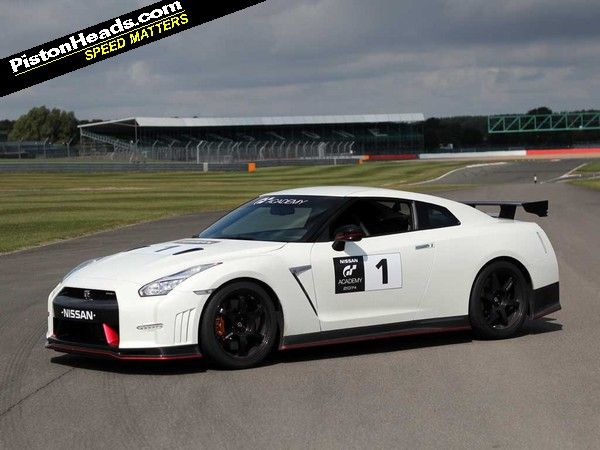 Nissan GT-R NISMO
The perennial geek's car,
the NISMO GT-R
takes the spirit of the standard GT-R and pushes it to even more anally retentive extremes. And if it came down to a battle for lap times there's little doubt the AMG wouldn't see which way the GT-R went, even if the modifications required to bring the NISMO up to
full N Attack
7min 8sec Nordschleife trim are pretty extensive and include a carbon rear bulkhead, titanium exhaust system, bespoke carbon/aluminium intercooler ducting and a host of other unique parts.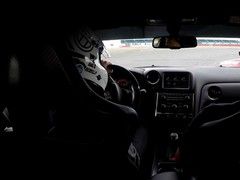 Proof: Dan did actually drive the NISMO on track!
Indeed, when you read what was required it begins to raise questions about how far along the style-substance axis this 'base' NISMO sits. And from within that sense continues. Sure, the seats have exposed carbon backs. But they're still recliners and there's still a full suite of gimmickry like three-mode switchable adjustment for the Bilstein Damptronic struts where the N Attack uses passive Ohlins units instead. Delve into the spec and you'll find plenty of delights though, be that the knowledge you've got GT3-spec turbos, stiffer wheel carriers with more castor angle up front and a thicker hollow anti-roll bar at the back. Nissan also boasts of adhesive bonding to join panels in addition to the regular spot welds for extra stiffness plus of course genuine aerodynamic and downforce benefit to the much more aggressive body panels and wings. From 20-inch Rays wheels to the fixed carbon plank it looks the real deal and decisively more serious than
the regular GT-R
which, seemingly, has taken the opportunity to peg itself back a tad and become a little more civilised and road biased. Relatively speaking.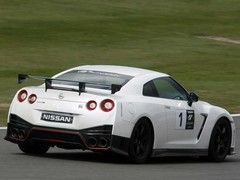 Thar she blows! If GT-R is a whale it's a killer whale
Then you look at that 1,720kg kerbweight and, as ever with GT-Rs, wonder whether even with all this incredible technology and staggering Nurburgring lap times it really is lost in a world of gimmickry for gimmickry's sake. Blimey, even the Black is over 100kg lighter than this monster.
A little over three minutes at the wheel isn't enough time to really judge whether the NISMO really can make good on the promise of all that technological hype. So what can we tell? Well, it might not be as stripped back and hardcore inside as you might hope given the track pretensions but it's immediately obvious it's several steps on from a regular GT-R in terms of its focus. Pitching it into the blind and awkwardly off-camber entry to Stowe corner you'd reasonably expect a big, heavy road car to push wide. All the diffs and traction in the world can't counter the basic physics of trying to chuck a car as heavy as this into a high-speed turn. And yet...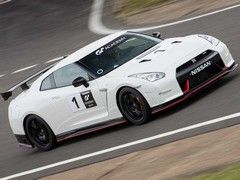 Bona fide hardcore? Certainly heavyweight
That increased rear stiffness and the bite of the NISMO optimised Dunlop Sport Maxx GTs means any wash you might have factored into your clipping point doesn't happen and the GT-R just darts for the kerb. Literally the NISMO seems to turn into the corner a car width tighter than you expect, an ability that can surely be enjoyed properly with greater familiarity and, combined with the outrageous corner exit traction, used to devastating effect against anything else this side of a lightweight track special. If the front wheels of the Black merely provide a fixed point around which fully lit rear wheels can pivot, the NISMO offers a completely different cornering model that, dare we say it, conjures up an impression of being on rails. Yes, that just happened. A genuine 'corners on rails' for your motoring hack cliché bingo card.
Where the engine in the AMG is a defining part of its character the NISMO's twin-turbo V6 is rather more appliance like, which sounds like damning with faint praise given the performance it delivers. Truly it's an absolute monster and unlike the peaky AMG V8 never feels caught out of its comfort zone. Ruthless, in a word.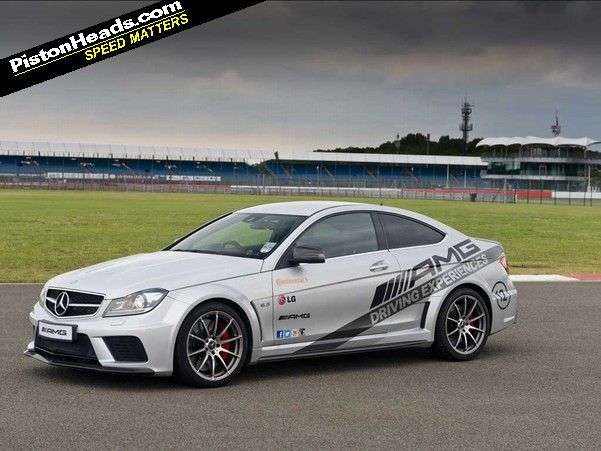 C63 AMG Coupe Black Series
Glance back and forth between the two spec sheets below and it's striking how closely these two cars match each other by the numbers, despite being philosophically at the opposite ends of the spectrum in terms of technology and mindset. The NISMO likes to paint itself as the ultimate (this week) realisation of an obsessive tech-driven culture where the ends matter more so than the logic (or otherwise) of the means.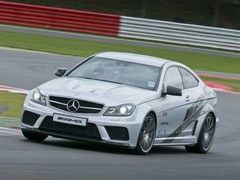 We'll Photoshop the heroic tyre smoke in, right?
The Black? It's a bit more easy going. This is an old fashioned muscle car, born of a fine tradition of souping up standard cars with big engines and progressively fancier and more expensive dressing. And this has the fanciest and most expensive.
With the arrival of the Edition 507 the gap between the Black and regular C63s has narrowed somewhat and on the face of it 517hp and 457lb ft don't sound like such a big leap from the 507hp and 450lb ft of the 507. Especially when you consider the coupe version thereof costs 'just' £68K. But dig deeper into the spec and you start to realise how much work has gone into the Black and what it says about the personality of AMG, just as the NISMO says of Nissan. The increase in track - 40mm front and 79mm rear - gives the most visible indication but within those engorged arches are bigger brakes and coilovers, manually adjustable if you're so inclined. The increased cooling demands of track usage are catered for with a bigger oil cooler and, on cars with the optional track pack, a separate cooler for the diff housed in the rear apron. Forged 19-inch wheels apparently save 11kg over comparable regular items and, like the NISMO, the track pack also gets you fancy Dunlop circuit optimised rubber.
With vents on both front and rear arches and the flics and bolt-on rear wing of the optional aero pack the Black Series is utterly unapologetic. Given the restrained menace of the previous CLK Black it seems a little aftermarket in comparison but the Black has to justify its premium over the 507 aesthetically as well as technically. On high-roller track days full of GT3s you're going to look a bit of a tit if it can't live up to the looks though, let's face it. And there's just a whiff of muscle vest in the Black's appearance that might have track purists looking a bit sniffy.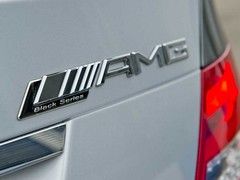 Small badge, big difference at least on track
Harris enjoyed the Black
as a road car but out on circuit - especially one as open as Silverstone - it's in its element. We were lucky enough to drive it back to back at Goodwood with the standard 507 Coupe a few weeks before this outing and if on paper they don't seem much different out on circuit the Black upgrades suddenly make sense.
The standard C63 Coupe is sharper and more poised than its big V8/auto gearbox combo might suggest and while the Black has the same basic set-up it's a completely different animal on track. There's no mush or filtration to the corner entry or feedback at the wheel, the general powerfully built demeanour carrying through to the driving style. The extra track and rubber at the front end gives it a much more positive turn-in than the standard car, the damping several leagues more crisp and precise too. There's a lot of weight up front and it will push on initially but the locking diff - standard on the Black - lets you quickly dial that out on the throttle and there's a languid transition to power oversteer that's utterly transparent in delivery and hugely enjoyable to exploit. Or would have been had our man not been on the Jesus pedal.
The power delivery is classic big cubes normally aspirated, the V8 drawing on its displacement initially before waking up and erupting into a properly ferocious top end and sounding suitably intoxicating throughout. You feel the weight in the big stops and tighter corners and the stiffness of the chassis can have it sniffing out unfriendly cambers. So being neat and tidy demands discipline and patience. But once settled you've got the firepower to make corner exit as exciting or lurid as you choose. It's still a big, heavy coupe and lap times will never be its forte but the ease of use and the grin factor more than make up for this. The gearbox? Bide your time for the manual downshifts and it's fine; whisper it but like the standard C63 S+ auto mode is actually bang-on in the way it picks downshift points under braking and holds gears under power.
Verdict
For all the on-paper similarities the way these two cars go around the same track couldn't be more different. In effect a continuation of our previous 'fast versus fun' comparisons the individual tastes of these two cars just whet the appetite for what might have been had we been able to lap them simultaneously.
Clearly there was no figuring but it doesn't take too much speculation to put the Nissan as the faster of the two around a track. Dramatically pointier than the standard GT-R there's a sense of a much sharper and more exploitable chassis more reactive to trailed brakes and other proactive inputs but it'd take some learning to really exploit. Word has it that the Ohlins equipped N Attack version and its Nurburgring fixation actually make it the more pliable and road friendly NISMO but we'll have to see about this. On a wide, smooth track like Silverstone the standard NISMO is in its element. On the road? We'll have to find out some other time.
Little doubt that the Black is the easier car to appreciate and the more accommodating of those who just want to have fun rather than chase lap times. In that respect it's perhaps less comfortable with the more in your face aero and other trick bits than the NISMO; spec it without the flics and the wing and you could enjoy its road ability with a straight face while still have enough over a regular C63 to really enjoy those outings on track too.
For that broader range of ability and more engaging nature the Black would be our pick. With the proviso the NISMO has a lot more to give and by objective measures is the faster and more capable car. Looks like we need to do a rematch.

---
MERCEDES-BENZ C63 AMG COUPE BLACK SERIES
Engine: 6,208cc V8
Transmission: 7-speed 'MCT' auto, rear-wheel drive
Power (hp): 517@6,800rpm
Torque (lb ft): 457@5,200rpm
0-62mph: 4.2 sec
Top speed: 186mph (limited)
Weight: 1,635kg
MPG: 23.1mpg (NEDC combined)
CO2: 286g/km
Price: £118,395
NISSAN GT-R NISMO
Engine: 3,799cc V6 twin-turbo
Transmission: 6-speed dual-clutch auto, four-wheel drive
Power (hp): 600@6,800rpm
Torque (lb ft): 461
0-62mph: Not disclosed
Top speed: 196mph
Weight: 1,720kg
MPG: 16.6mpg (NEDC combined)
CO2: 275g/km
Price: £125,000 (before options)
[Sources: SniffPetrol]
Photos: Anthony Fraser (AMG shots)