If you're a little miffed that the new 125i is a four-cylinder affair, there is a solution: enter stage left the M135i, sporting a 3.0-litre turbocharged straight-six engine just a few hp down of the old twin-turbo in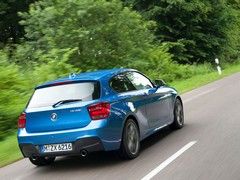 The word 'down' is slightly misleading, however, as
(it's not quite a proper M car) produces 320hp and a plenty of torque - 332lb ft is available between 1,300 and 4,500rpm. It's the engine that is the highlight of the car, too.
Those numbers combined with a 1,500kg kerb weight give it awesome performance. The motor's mid-range is ridiculously strong and is accompanied by a bassy, creamy straight-six engine note that makes you stab at the throttle just to hear the noise. The prodigious torque makes overtaking an instinctive manoeuvre, rather than something you plan - and any one of the eight-speed automatic's upper five gears will do.
Despite its turbocharged nature, it'll rev out with vim. At low engine speeds, there's a hint of lag - it actually feels more like soft throttle response - but at anything above 3,000rpm it'll just take off, trying to head-butt the 7,000rpm rev limiter. The howl the motor makes at 5,000rpm-plus is intoxicating, too.
The M135i gets BMW's four driving modes - Eco, Comfort, Sport and Sport+ - but it's Sport you'll want to keep the M Performance model in most of the time. In Comfort, the car is perfect for day-to-day stuff, but flick into Sport and the steering's weight takes on a meatier feel - not to he-man levels, but enough to give more involvement - the throttle and gearbox become more responsive and the ride gets a bit tauter.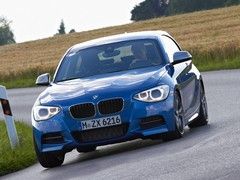 It's definitely a UK car, the M135i; the ride is firm, but control is good and it never feels as though the set-up is too much for the chassis. Though that's partly because there's plenty of grip from the specially developed 245-section Michelin rubber. Its grip and direct, accurate steering means it's easy to precisely place the car. You can drive it in this way - neat and tidy and fast - or you can drive it like a hooligan in a properly point-and-squirt style.
There's so much grip and balance from the chassis that you can almost infinitely alter your line through any bend. Minute movements of the throttle and steering adjust the weight distribution and you can feel the transfer of grip front to back. It's a great sensation that proves you can make a throttle-adjustable car without meaning it has to go sideways.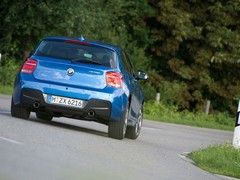 The quickest small BMW gets some suitably chunky brakes to temper its huge performance, too. They're big four-pot calipers clamping 'oversized' discs, according to BMW, and no, we don't know how big that means either. There's a fair bit of assistance from the servo, but at least they're powerful.
An imposing face
The most potent 1 Series hatch looks imposing and it'll sweep clean the outside lane of an autobahn with ease. The chunky M Sport bodykit is cohesive at least, and the understated accents - such as the dark chrome tailpipes - point to its sporting intent. The aesthetics of the latest three-door 1 Series are entirely subjective of course, and will likely divide opinion - you're not going to be sitting on the fence with this one.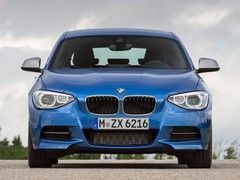 But even if you're not a big fan of twinkling brilliant white headlights and find the outside a bit garish, it's hard to fault the cabin. It's roomy enough both front and back and the levels of equipment and finish are spot-on. Even the blue M Sport trim addition is subtle.
Priced to sell?
Finally, there's the price. £29,995 is only £3,000 more than the new 280hp Vauxhall Astra VXR - with 320hp and 0-62mph in 4.9 seconds, it sounds like something of a performance bargain to us.
Combined (official) mpg of 37.7 is respectable, it's cheap(ish), posseses impressive performance and will do the day-to-day cruising stuff with aplomb - the M135i is BMW at its very best.

---
BMW M135i
Engine: 2,979cc six-cylinder, turbocharged
Power: 320hp @ 5,800rpm
Torque: 332lb ft @ 1,300 - 4,500rpm
0-62mph: 4.9 seconds
Top speed: 155mph (electronically limited)
Weight: 1,500kg
MPG: 37.7 (NEDC combined)
CO2: 175g/km
Price: £29,995