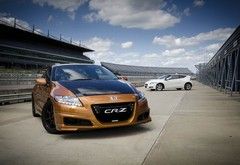 I'm going to take a bit of a punt here, but I reckon it's a fairly safe bet that you won't like the styling of the Mugen version of the Honda CR-Z.
No doubt there will be a few of you for whom the be-winged, be-spoilered and be-side skirted looks push the right buttons, but I don't think I'm going out on all that much of a limb if I say that you won't be in a majority...
But, however dubious the looks of this one-off special, there's no denying it's an intriguing concept. Honda pitches the standard CR-Z as the world's first genuinely sporty hybrid car, but the 'sporty' aspect doesn't stand up to all that much scrutiny when you drive the car. It's a moderately spritely thing, but a total power output of 122bhp and a 0-62mph sprint posted in 9.9secs is hardly the stuff of performance legend.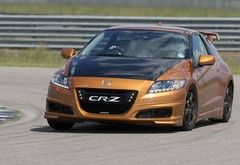 Which is why bolting on a supercharger to the CR-Z is such a fascinating idea, because possibly - just possibly - it could be this which elevates the CR-Z to a genuinely sporting status. Not that Honda or Mugen would thank us for the phrase 'bolting on'.
Colin Whittamore from Mugen Euro is at pains to point out that the supercharger has been fully and thoroughly integrated into the Mugen CR-Z's drivetrain and its IMA system. The three drive modes (including a special 'MUGEN' rather than sport mode mode) are all carried over, with 50mpg easily achievable in 'eco' mode (we'll take Mr Whittamore's word for that one...).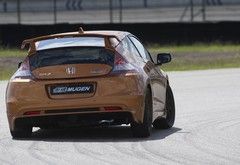 Although this is still very much an experimental development car, the supercharger (Mugen calls it
i
CF for 'Integral Centrigual Forced induction) has been slotted in sympathetically and effectively and, with a bit of ECU tweakery, works pretty much in seamless harmony with the IMA electric motor and the 1.5-litre internal combustion engine.
"The idea was to use the significant advantage of the early torque provided by the Honda IMA electric motor," says Colin, "then increase the torque available from the engine progressively".
As a result, the torque curve of the CR-Z is much more like that of a conventional car. Thus (theoretically at least), this rather unusual vehicle, with its odd-tech drivetrain, 197bhp and 158lb ft of torque, should behave like a conventional, lightweight hot hatch, despite achieving this in an far from conventional way.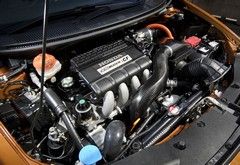 But theory is nothing without practice, so Honda and Mugen have kindly laid on Rockingham racetrack for us to have a little go. The first thing you notice, having got over the shock of the looks and strapped yourself in, is how 'proper' this car feels. Yes there are a lot of aftermarket bits, but this is no bare-metal-and-duct-tape hack - this is one properly built experiment.
The second thing you notice is how damn loud the exhaust is. Apparently the original one they fitted was strangling the engine's ability to breathe. This one most definitely does not do that, but its boomy gargle would want to be toned down should a fast CR-Z ever make it anywhere near a production line.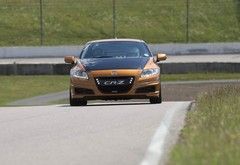 The third thing you notice is the rev limiter. This is because, if you have any previous experience of fast Hondas, you bounce into it more than once. You see, instead of revving to 8000rpm or 9000rpm, the Mugen CR-Z butts against the roof of its revs at just 6500rpm or so. This is most definitely a different type of fast Honda. One that delivers its best with low-down power and torque.
There is a problem, however. True enough, it picks up the pace sharply and revs keenly and freely, but it doesn't actually seem all that nippy. Admittedly a wide, empty circuit such as Rockingham sucks away any real sensation of speed, but even accounting for that the Mugen seems ever-so-slightly lacking in shove. But this is still an experimental car, a first dalliance with a very new approach to fast motoring form Honda and Mugen, so we'll have to give 'em the benefit of the doubt on that one.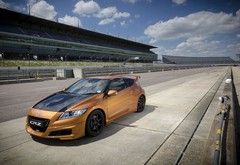 What there is no doubting, on the other hand, is the CR-Z Mugen's agility. Swanky carbon fibre doors save 31kg (don't expect to see that on a Honda or Mugen price list anytime soon) and combine with various other lightweight nods (including a carbon fibre bonnet and absent rear seats) to save a total of 50kg. There are also five-stage adjustable dampers, a widened track and 320mm grooved, ventilated disc brakes with chunky four-pot monoblock calipers to help slow things down.
The combination of all these factors really transforms the CR-Z, creating a flingable, grippy and fun car. The turn-in feels sharp, there's loads of grip and the CR-Z feels stable all the way through longer corners, while the brakes are truly magnificent; strong, sharp and yet easy to modulate.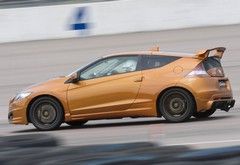 The only thing that frustrates in the handling department is the fact that the front end isn't pointy enough. But no doubt you could get the back end moving around a fair bit more with a few adjustments to the suspension and create a car that would be a pointy, adjustable hoot on track days. And I never thought I would describe a hybrid as a hoot on track.
There's a lot of potential in the CR-Z Mugen, but they do need to work on that engine a little more. And, if they ever put one on sale, market it for a fair chunk cheaper than the £150k it cost to develop this one-off.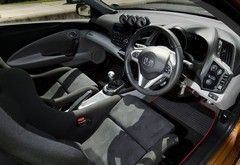 You can get bits of the Mugen CR-Z for your standard car, however, including the exhaust, wheels and suspension. That little lot will set you back £6500, mind. Whether that's worth it depends how much you value agile handling, really...
As for the rest of the car, well obviously if they made it it wouldn't cost £150k, but we doubt it would dip below £30k. But that's not really the point of the Mugen CR-Z. It is a statement of performance intent, Honda and Mugen showing us that, while we might have to embrace new technology, we won't have to give up what we love - fast cars.
Mugen Vs standard CR-Z spec: