Torrential rain - sufficient to wipe away caravan parks and cause a severe weather warning in June across the south east - is perhaps not the best weather in which to test a new 280hp front-drive hot hatch.
Yet that's what we're faced with to try out the new second generation Vauxhall Astra VXR (most of these pics were taken during Vauxhall's much sunnier recce of the route a couple of weeks ago). But such tough conditions are maybe appropriate, because this car, in the tradition of the best Hollywood sequels, is 'Astra VXR II: This Time it's Serious'.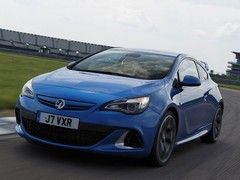 The last Astra VXR (and indeed
) was certainly a rapid old Hector, but it rather lacked the manners to put its power down effectively. The new VXR, however, aims to redress that shortcoming. Yes, it has 17 per cent more power than before (280hp plays 240hp) and a chunky 25 per cent more torque (it's up to 295lb ft now), but that's partly to keep up with or slightly ahead of a group of rivals that now set 250-300hp as a hot hatch benchmark, rather than the 200-225hp of a few years back.
No, what you sense is really important to Opel and Vauxhall engineers this time around is that they come up with a dynamically polished car. They've deployed quite a lot of kit to achieve this, too. There's the Drexler limited-slip diff from the Corsa Nurburgring, while the HiPer Strut suspension from the GTC is accompanied by Vauxhall's Flex-Ride adaptive damping system. The springs have been stiffened by 30 per cent, too, and the ZF Sachs dampers get bespoke settings on the VXR.
The Astra VXR also uses a thoroughly clever 'floating disc' brake system. This involves A cast iron rotor, but mounted on an aluminium disc bell. This reduces heat build-up under heavy use and, crucially, cuts 2.8kg per caliper compared with the item in the GTC and 4.2kg per disc. The result is an impressive 7kg drop in unsprung weight per corner over the GTC.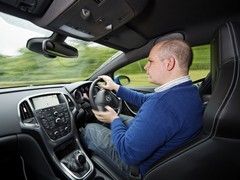 The big question is whether this all translates into a car capable of taming all that power. The bumpy, sodden, puddle-strewn roads of Northamptonshire and Leicestershire will certainly challenge that. Early signs are good. I'm hardly going to be able to give you the definitive line on the VXR's dry-weather grip, but it is amazing how effective the differential proves itself in putting the considerable power down both out of corners and in a straight line on a road that's a chequerboard of bumps and puddles.
The hard work that's gone into the rest of the chassis is evident, too. The Astra VXR turns in sharply and with authority, the ride is controlled without being crashy or over-firm (in normal mode, at least; put it into sport or 'VXR' settings and it all gets a bit too uncomfortable and over-firm).
It's still not the most subtle of machines, however. There's clearly traction, grip and composure aplenty, but it misses out on the ever-elusive sensation of 'flow' - it just doesn't breathe with the road in the way that the very best performance cars do.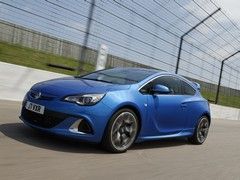 Of course, you might not see that as a bad thing - the way it kind of beats the road up as opposed to working with it is really the dynamic manifestation of the VXR's traditionally slightly brutish MO, and traditional VXR buyers love that. It is worth mentioning, too, that the car we tried gets the £995 Aero Pack which includes, as well as side skirts, a bi-plane rear spoiler, 20-inch wheels as opposed to 19s, so perhaps those would help it to 'flow' more effectively. Mind you, 85 per cent of Astra VXR customers are expected to tick the Aero Pack option, so perhaps that's a bit of a moot point.
The essence of hooligan is definitely still there in the drivetrain, too. There's full boost from the turbo at 1,500rpm, and the full 295lb ft of torque from 2,500rpm all the way to 4,500rpm. It makes for a fearsomely accelerative car (although that 5.9-second sprint to 62mph is as much to with long gearing as it is pure power - it'll do it in second gear), and the experience is accompanied by a whooshing form the bespoke Remus exhaust that sounds like Darth Vader undergoing an alcohol breath test.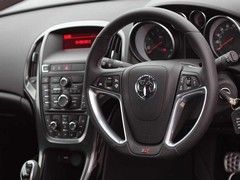 Inside, the cabin is typical modern Vauxhall, which seems to mean plenty of kit, but a slightly awkward and fiddly layout. The bits that are unique to the VXR are nice enough, though. The seats (developed in-house as opposed to with Recaro) for instance are good-looking, firm and supportive, with electrically adjustable side bolsters, and the extra-small steering wheel is a pleasure to use. Although the gearlever feels a bit awkward in the hand - though that's perhaps just me, as I've never got on with Vauxhall gearlevers. Still, the shift itself is sweet enough, if not the easiest to use.
At £26,995 the new Astra VXR isn't exactly a bargain (especially considering the new Focus ST pitches in at £21,995 in its most basic form), but it's competing in a market that's generally grown up in price power and capability over the past few years. And it acquits itself well. It's still not the most sophisticated hatch out there, but VXR buyers like a bit of bite to their cars. The wild child VXR has been tamed, but it hasn't lost its teeth.
---
VAUXHALL ASTRA VXR
Engine:1,998cc 4-cyl, turbocharged
Transmission: 6-speed manual, front-wheel drive
Power (hp):280@5,500rpm
Torque (lb ft):295@2,400-4,500rpm
0-62mph: 5.9 sec
Top speed: 155mph
Weight: 1,475kg
MPG: 34.9mpg
CO2: 189g/km
Price: £26,995