I followed the most beautiful 250MM at speed, in fading light. Its slim hips and four weeny exhaust tips wouldn't have appealed to me before that convoy, but 100 miles of ludicrous speed altered my feelings towards these long-distance specials. They have something of the Bonneville speed specials about them: low drag and low slung.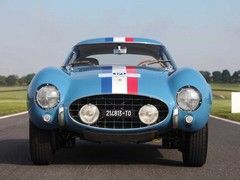 Even by 50s Ferrari standards it's a stunner
And now I'm standing behind another narrow rump, a similar shape, with the four distinctive cigar diameter exhausts, and this one might be even prettier than the MM. My knowledge of these older Ferraris isn't too bad, but when Max Girado of RM auctions dropped me a line asking if I wanted a little pootle in a 250 Tour de France that was going to feature at
on September 8, I thought I knew what it would look like. Largely because a car of the same description overtook me several times in the Fordwater Trophy
, driven by one M Girado!
Same but different
But this car looks nothing like that one - and while I'm walking around this simply stunning machine - to my eyes more beautiful than the car I thought it was going to be - Max saunters in and casually gives me the layman's guide to the three different versions of the 250 TdF. You'd like Max, he really knows his stuff and, for a bloke who marshals auctions at which cars are increasingly a form of stationary currency, he likes them when they're driven. Preferably with him at the wheel.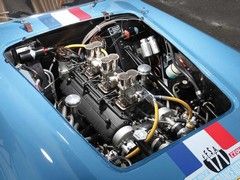 Lots of cylinders, lots of carbs, lots of grinning
So what is this 250 TdF? It's the first run of cars that were really just called 250 GT Berlinettas, but inherited the TdF soubriquet because of their success on the French endurance event. This is the eighth of nine chassis built in 1956 and a week later my lower jaw has yet to fully return to its correct position. In the flesh this car has a hypnotic effect on me - the styling is as unusual as the baby blue paintwork. It has the air of some special sculpted by an Italian coachworker, maybe a hint of Zagato.
To give you the full history of the car I'd need to copy RM's description, so this being the internet, here's a link to the RM web page showing what it is and what it did.
We huddle around the TdF and coo at the details for way, way too long - then decide to head off for a drive. I don't think I've driven a £5m Ferrari on the road before.
There so much stationary theatre about this car, simply climbing onboard, instinctively allowing the palms of your hands to brush around the delicate wooden steering wheel rim and then grabbing a fist full of that tall chrome gear lever. The key sits high on the dashboard with a far neater solution than all those modern non-keys: you pop it into the barrel and simply push it in. With a small amount of throttle, the 3.0-litre V12 fires easily, then you push the clutch, engage first gear and roll forwards - noting the perfectly Italian driving position. I can just about reach the wheel, but my contorted knees foul the wheel. And I'm not a tall man.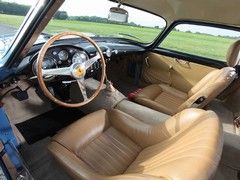 Quirky assymetric seating all about the driver
The controls are heavy and deliberate at low speed - this is clearly a car that wants to be up around 100mph, flowing down Route Nationales, switching between third and fourth gears. The ride is firm and steering is slow enough to warrant serious shoulder exercise. The view forwards is just magnificent too - surely these 50s Ferraris have the most beautiful clock faces of all time? That mechanical rev counter needle hunts around and you can't quite believe that a V12 of this vintage really revs to 7,000rpm. Max, riding shotgun, confirms that "six should do for today."
If you could justify the value of a car by the way people respond to it, the TdF is probably worth twice the estimate. People don't just smile, they point, shriek, wave, fling their arms about and then flutter around it. Truly, it's one of the prettiest cars I've ever seen, let alone driven. One notable quirk is the asymmetrical seating designs - a low-back bucket for the driver, high-back conventional seat, plus headrest, for the passenger.
But popularity isn't the key to value in the world of old cars - access is, and this car really does offer a passport to every event. It is eligible for the Mille Miglia, the Le Mans Classic, Goodwood - pretty much every notable race meeting and endurance classic would want this car on its entry list. There are not many machines that qualify for such access.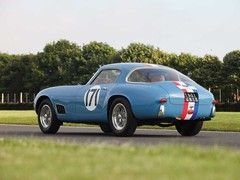 Well it's not red, for starters
We wobble around rural Surrey for a bit, shoot a few video clips in that most British of setting, Tilford cricket pitch, grab a snack in the Barley Mow and then head back to base. I'm getting more confident with the gearchange and the concept that it's a car which only really comes alive when you're pushing it - because it takes that effort to reveal the car's sense of connection. It feels nippy today, so in 1956, on a damp road in the middle of a French night, it must have felt like an uncontrollable missile.
Key to its appeal for me though is that it isn't just another red, shark-faced Fandango. It has a style and silhouette unlike any other Maranello product I've encountered, and yet it still feels suffused with all that heritage and history. It goes under the hammer on Monday September 8 in London town. I would consider bidding, but I'd need to sell my AX GT to afford it, and can't bear to let it go.