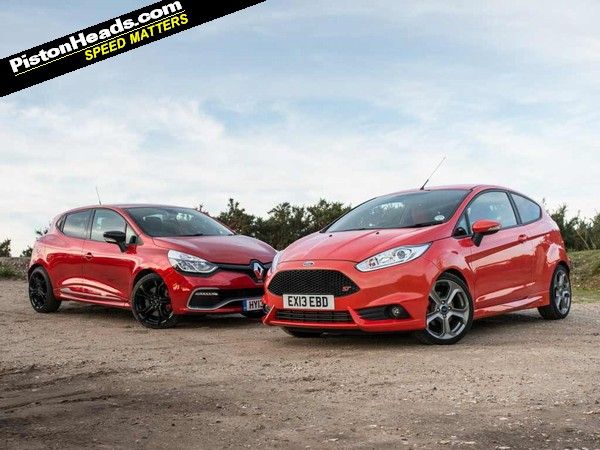 We know Mr Harris has covered
Fiesta Mountune vs Clio RS200
earlier this year. But that was a few minutes of track hooning and drag races; excellent video fodder, but leaving the space open for a comparison out in The Real World.
Ideally we would have had a 208 GTI in this test to cover all the bases, but reading some other reviews suggested it may have taken the bronze medal. But we hope to get hold of one in the UK imminently, just to be sure.
As for our two hot hatch protagonists, they were actually ideally specced. In all honesty, a bad Fiesta ST can't be ordered, as none of the available options fundamentally alters its vivacious character. Given Mountune's MP215 kit can be fitted and keep the Fiesta under the Clio's list price, it seemed appropriate to line-up the Mountuned car against the Clio. We'll come to the price issue in more depth later.
The Clio came to us Luxed and Cupped, the latter perhaps more relevant to this test than the £1,000 of climate control, folding mirrors and auto lights. The Cup pack brings 18-inch wheels on Dunlop Sport Maxx rubber, a 3mm drop in ride height and a 15 per cent increase in chassis stiffness.
Though we'll come to the commonalities and distinguishing features in more detail, it's interesting to note how fundamentally different the two approaches to building a hot hatch; the Ford is relatively simple, the Renault far more complex in its attempt to provide driving thrills. Read on to find out which is best.

---
Introduction and comments
Ford Fiesta ST
Renaultsport Clio 200 Turbo
Verdict

---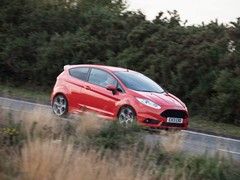 FORD FIESTA ST MOUNTUNE
Engine:
1,596cc 4-cyl turbo
Power (hp):
215@6,000rpm*
Torque (lb ft):
236@3,000rpm*
Transmission:
6-speed manual, FWD
Top speed:
137mph
0-62mph:
6.4 secs (claimed)**
MPG:
47.9 (NEDC combined)
CO2:
139g/km
Price:
£17,594
*Power and torque figures on overboost
**Claimed 0-62mph from Mountune. All other stats as the standard car

---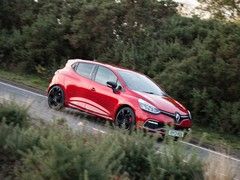 RENAULTSPORT CLIO 200 TURBO
Engine:
 1,618cc 4-cyl turbo
Transmission:
 6-speed dual-clutch auto, FWD
Power (hp):
 200@6,000rpm
Torque (lb ft):
 177@1,750rpm
0-62mph:
 6.7sec
Top speed:
 143mph
Weight:
 1,204kg
MPG:
 44.8mpg (NEDC combined)
CO2:
 144g/km
Price
: £18,995
All prices before options

---
Photos: PrimeExposures