This year seems to have been the year of the electric two-wheeler with first BMW and then Brammo and now KTM getting in on the act. However in typical KTM fashion, rather than simply dip a toe in the water, it has dived head first into the pool and is trying to start a whole new electric revolution. And you know what? PH2 reckons they might well be onto something...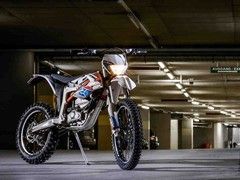 Definitely cooler than BMW's electric scooter
Electric vehicles are always going to split opinions. However PH2 reckons there are two very distinct avenues that electricity might well prove popular when it comes to two wheels. The first is inner-city transport, which BMW is targeting with its
, and the second is off-road.
Off-road riders have one huge issue - annoying ramblers. The noise and smell of a two-stroke motor is enough to send them into meltdown and even quieter four-strokes aren't exactly welcomed with open arms. Ramblers like to hear the birds sing and the access rights to green lanes have been drastically cut. Motocross tracks are also under fire in much the same way as race circuits for noise issues. So where can you ride your off-road bike? How about in a city centre?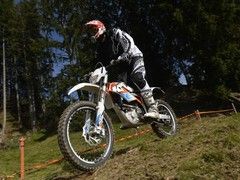 Like DH mountain biking, minus the pedalling
KTM is attempting to establish a series of 'E Parks' all over Europe and there are currently three planned for the UK. These are basically inner-city off-road tracks that can be either indoor or outdoor thanks to the fact they will be running electric Freerides. That's the great thing about electricity - you can stick an E Park next to a library and no one will ever complain. KTM's plan is to use these parks in much the same way as a kart track operates - you turn up, pay your money, and rent an electric bike. Obviously KTM won't actually be running the tracks itself, but it will certainly be trying its very best to make them happen. Having ridden the electric Freeride I'll be right at the front of the E Park queue. And I hate off-road riding!
Like off-road, but much better!
When I see a rut I basically tense up which, I'm assured, isn't the way to approach them. But after spending a day on the Freeride my mind has been changed. KTM took us on a gentle trail ride, which I didn't really enjoy, and then to a motocross style track, which was bloody brilliant fun and is a fair indication about what an E Park will be like.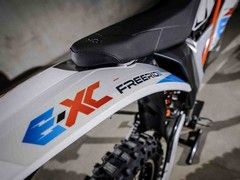 XC version for trail riding, SX for electrified moto
Despite effectively being a 125cc bike due to the way electric bikes are homologated, the Freeride makes a peak of 22hp with 31lb ft of torque from the word go, which is about the same as a petrol 250cc bike. However to riders who aren't that confident off road, the fact it weighs just 108kg is the major plus factor. After a while I found myself relaxing and actually really enjoying the off-road ride as due to the fact I was on a circuit I could learn the track and actually try new things out to boost my confidence.
The Freeride was light enough to feel manageable and in the right hands (not mine) proved extremely effective off-road, meaning there was certainly scope for improvement. If you haven't tried off-road you won't believe how much physical effort it takes to get a bike around a dirt track and in about 15 minutes I was absolutely hanging. If the choice is going to the gym or an E Park to shed the muffin tops, I'd choose E Park every time. But that's not the only advantage of an E Park.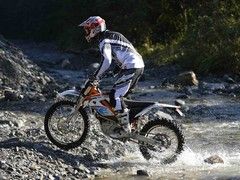 Fresh from the 'will it work underwater' test
The huge issues that always surround electric vehicles are cost and battery life, and the Freeride E is no exception. The bike costs £10,299 and the battery lasts about three quarters of an hour of moderate use, 15 minutes of real beasting. Obviously this basically rules it out of trail riding as you would get stuck in the middle of nowhere but for an E Park it doesn't matter. You can swap the battery on a Freeride in under a minute and it charges up in under an hour and a half, so this isn't an issue. As you are renting the bike the RRP isn't a problem and for the park organisers the great thing is that electric vehicles require virtually no maintenance, in fact the Freeride needs 155ml of oil every 50 hours in its motor, air in the tyres and the crash damage fixed when required - that's it! In the context of this, E Parks make a hell of a lot of sense and I really hope they take off. And, yes, in case you are wondering the Freeride E is 100 per cent waterproof and can actually be ridden underwater without your hair standing on end...
---
2015 KTM Freeride E-SX
Engine: Brushless permanent magnet synchronous water-cooled motor
Power (hp): 15@5,500rpm
Torque: 31lb ft
Top speed: 60mph (est)
Weight: 108kg (dry)
MPG: n/a
Price: £10,299