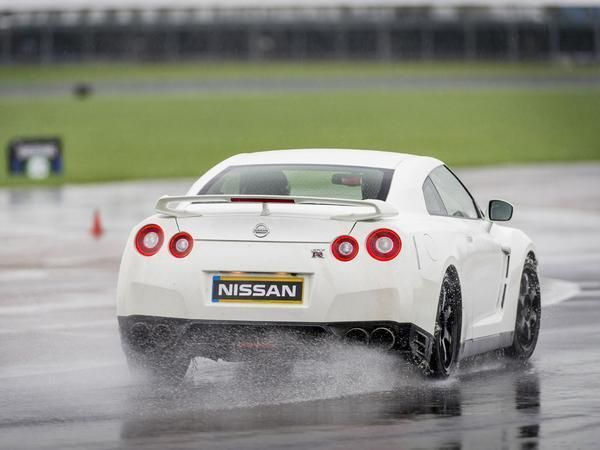 Nissan GT-R Track Edition Engineered by NISMO. Catchy, huh? Basically what we have here is the BMW M Sport to BMW M, Audi S Line to Audi RS or even - god forbid - Aerokitted 911 to the GT3 real thing. Were we talking about a normal car here, that might be the case. But the GT-R isn't a normal car. And NISMO-lite or not, any GT-R with that name attached to it has to be worth a look.
Our drive in the Track Edition doesn't last a whole lot longer than the time taken to speak its full name. And we'll be getting a more extensive go soon. For now let's take a little look at what your £88,560 - a £10,530 premium over the standard GT-R - actually gets you.
You'll have likely spotted the rather tasty 20-inch NISMO-branded wheels, supplied by RAYS and apparently ribbed on their inside surface to stop the tyres spinning on the rim when you give it full beans. Because GT-R, as the internet might say. There is substance too, the Track Edition getting the NISMO's additional adhesive bonding over and above the regular spot welds to increase body rigidity - seam welding with glue basically, and described as a "NISMO factory tuned enhancement". Also carried over from the flagship model are the "large, high-rigidity bolts" for the wheel hub attachments, the hollow 17.3mm rear anti-roll bar (lighter and stiffer than standard) and - seemingly - the same NISMO spec three-mode Bilstein DampTronic dampers.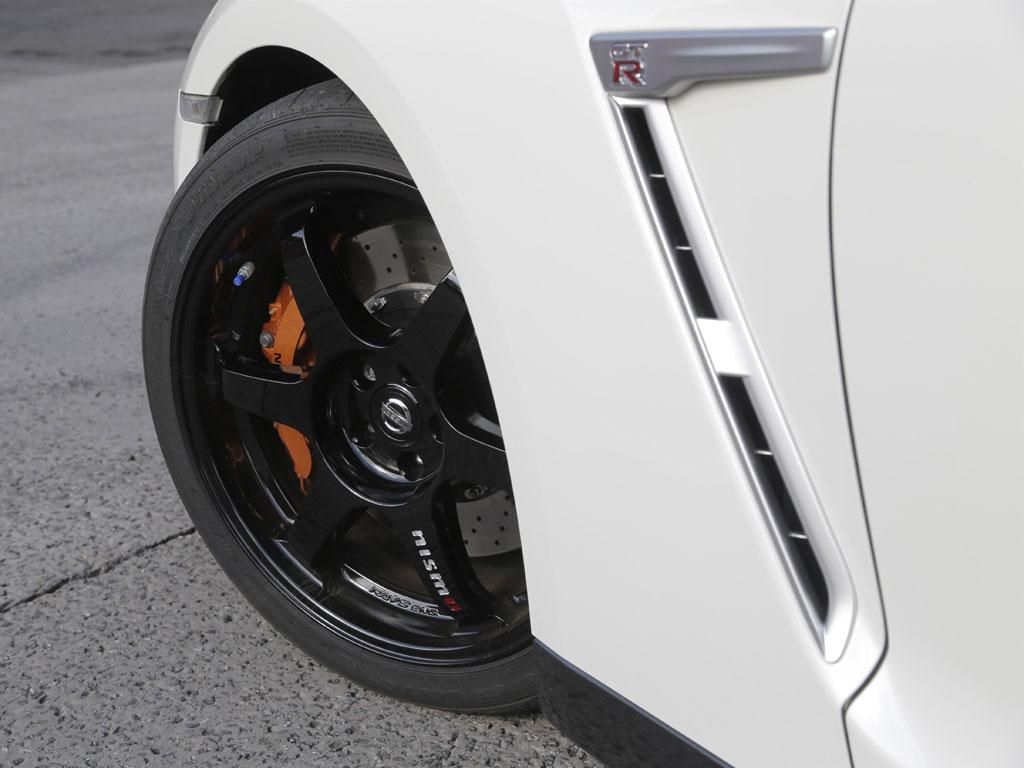 Internally ribbed to stop tyres spinning on the rim
Hard to quantify
Nissan is typically cagey about talking numbers when it comes to precise changes to GT-R suspension geometry or spring/damper rates, merely saying the set-up is "specially tuned to deliver exceptional grip levels and progressive handling response at the limit". There are also "specially developed links fitted to the front double wishbone suspension [to] increase castor trail to optimise wheel position during high­-G cornering and improve straight­line and cornering stability", according to the limited press info.
To summarise then it's a regular GT-R with some fancier dampers, increased body stiffness plus - you'd expect - a little more pointiness than standard thanks to that stiffer rear anti-roll bar. And some NISMO badges.
Exactly how much of this can we appreciate in a handful of laps around Silverstone's compact Stowe Circuit? Not a great deal, you'd imagine, especially with orders not to touch any of the three rocker switches controlling powertrain, stability control and damping.
Expectations of what we'll get from this taster drive suitably low, the Track Edition then does that very GT-R thing of completely blowing them out of the water in just a few short laps. Maybe prolonged exposure to the car's performance means the novelty wears off quickly, perhaps explaining why so many owners seem desperate to go way beyond the standard 550hp. But as an occasional hit the GT-R's ferocity still takes a little while to dial into.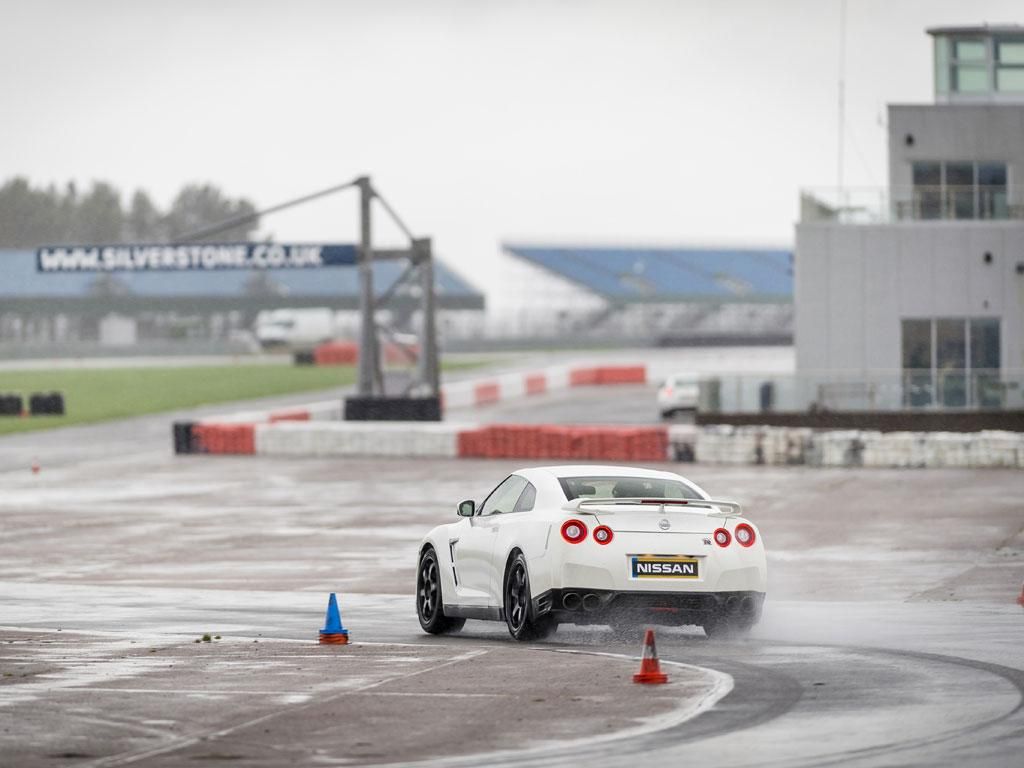 Needs to be grabbed by the scruff of the neck
Blunt force trauma
It feels like a car needing to be grabbed by the scruff of the neck. To which it responds in kind, dishing out relentless wallops of acceleration on the greasy, puddle-strewn straights, hauling itself up violently on the brakes and then doing all sorts of clever stuff in the corners. With little time for exploring subtlety or nuance - it is there, honest - this is a brutal introduction to the Track Edition's talents.
Normal mode for powertrain frustrates with its conservative shift points, even in manual mode, and the bespoke Dunlop Sport Maxx GT run-flats have been replaced for the purposes of this press event with Pirelli P Zeroes that, frankly, aren't at their best on wet concrete. This does, however, permit some exploration of the chassis' attempts to send the drive torque to where it might most effectively be deployed, even with everything on.
Despite the safety nets, in this environment the Track Edition feels like a caged animal, demanding of some quite serious inputs and delivering a surprisingly intense adrenaline hit. Within the context of this drive it's hard to really explore the extra focus of the NISMO chassis settings but, as expected, turn-in is keen and in these conditions the Track Edition feels eager to pivot into oversteer from corner entry to exit. It ends up a scrappy three-way fight between driver, engine and stability control but it's hugely exciting, the more so when our chaperone feels sufficiently reassured to select R mode on the dampers. This just exacerbates the spikiness of the turn-in, the willingness of the Track Edition to adjust its angle on brakes and/or throttle and the tantalising sense of what a little more time and space would reveal.
We'll look forward to this in due course. But for now if the standard GT-R's attempts to grow up and act (relatively) sensible aren't to your taste the Track Edition would seem a welcome way of unleashing a little more of Godzilla's bite.
---
Previously on PH... Nissan GT-R timeline
Nissan GT-R first drive (December 2007)
Nissan GT-R 2012: More for less (fuel) (November 2011) 
Nissan GT-R vs BMW M5 (February 2012)
Nissan GT-R Track Pack vs Porsche 911 Turbo (May 2012)
World Domination and the Nissan GT-R (May 2012)
Nissan GT-R looks to the future(August 2012)
2013 Nissan GT-R, now even more so(November 2012)
Nissan GT-R MY14 and NISMO driven (November 2013)
Nissan GT-R NISMO vs Mercedes C63 Black Series (August 2014)
Nissan GT-R: Buying Guide (November 2014)
MY2015 Nissan GT-R updates (November 2015)
BMW M4 vs. Nissan GT-R 45th Anniversary (November 2015)
---
NISSAN GT-R TRACK EDITION BY NISMO
Engine: 3,799cc V6 twin-turbo
Transmission: 6-speed dual clutch auto, four-wheel drive
Power (hp): 550@6,400rpm
Torque (lb ft): 466@3,200rpm - 5,800rpm
0-62mph: 2.8sec
Top speed: 196mph
Weight: 1,740kg (without driver)
MPG:24mpg (NEDC combined)
CO2: 275g/km
Price: £88,560 (OTR, before options)