If Rolls-Royce isn't careful, it will accidentally make a sports car one of these days. Don't believe us? Take the
. Rolls-Royce's smallest saloon is already fast enough to be a sports car. It sprints from rest to 62mph in 4.9 seconds, nails 100mph in less than eleven and packs a 563hp 6.6-litre V12 that lights up its tyres as easily as a fast Fiesta in a B&Q car park. Then there's the Ghost-based
coupe which, given space (quite a lot), will indulge in outrageous drifts.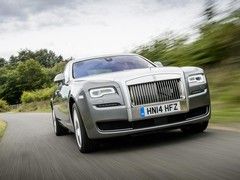 What, you haven't spotted the new bonnet?
And if that's not enough to convince you
has Aston in its sights, the new facelifted Ghost Series II is also available with something called a Dynamic Driving Pack - a special chassis tune that engineers say has been created for keen drivers...
Ungentlemanly behaviour
This is very exciting for PHers, especially when you remember that the Ghost is based on the BMW 7 Series - the M7 version of which is in a shed somewhere just waiting for the business case to be put it into production. So perhaps the facelifted Ghost could be that business case and pinch some of the magic that stillborn M car must have packed.
Wait... facelift? What facelift? At a glance the Ghost Series II appears no different from the car that went on sale back in 2009. It's a classic case of not messing with a winning formula, you'll say. But look closer and there's far more nip and tuckery than you'd ever imagine.
The brief was to make the Ghost more imposing. That's why the statement radiator grill now sits some seven degrees more upright. New headlamps with daytime running LED rings have been added, while there's been a subtle reshaping of the bumper. The front wings now boast re-profiled fake running-board lines (Rolls-Royce calls them 'waft' lines). And to cap off the sheet metal changes, there's a completely new bonnet.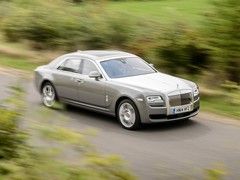 Ghost feels big here. Really big
Inside, there's a pair of completely new seats that are said to be more supportive and comfortable, boasting some of the softest leather we've ever experienced (ostrich, alligator and reindeer are on the options list, should you prefer). Finally, small touches such as a crystal glass controller for the iDrive highlight the attention to detail lavished on the interior.
The standard Ghost II carries over its suspension settings from the previous car, save tweaked rear axle bearings to cut noise and boost high-speed stability. Refreshingly, there are no adaptive damper settings to worry about, nor different mappings for the throttle or steering weight. You just get in and drive.
And do you know what? Nearly five years on, a drive in a Rolls-Royce remains something to savour and I challenge even the most hardcore GT3 RS fans to say they'd fail to extract some driving enjoyment from a Ghost.
Flying lady
Sitting far higher than you would imagine in a saloon, there's a commanding view of the road ahead and the iconic flying lady, a reminder of the horrible and deceitful things you've done (probably) to get where you're sitting. No matter, because as soon as you ease into Drive (there's no sport button to worry about, just 'low'), you forget about your caddish misdemeanours and begin to relax.
Coming from a Mercedes S500 Plug-in hybrid launch, I thought I knew 'refined'. But after a few deafeningly silent minutes in the Ghost, the big Merc felt uncouth by comparison.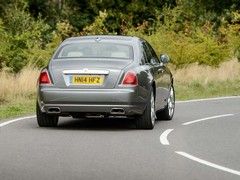 Steady on that throttle now...
In normal running without any big stabs of the throttle, the huge 6.6-litre twin-turbo V12 makes almost no noise and does a convincing impression of an electric motor, delivering peak torque of 575lb ft at just 1,500rpm.
Push the throttle for an overtake and once more the response feels electric, although initially it sounds like a diesel (of all things) before the exotic V12 soundtrack takes over. The acceleration that accompanies that sound is effortless, the two-and-a-half tonne kerbweight meaningless. A special mention must go to the throttle response, which is so deliciously direct and linear it could teach a few supercars a thing or two.
Straight to the point
There's no lag from the engine, but reinforcing the instant response is the Ghost II's new gearbox software that uses the sat-nav to predict gearchanges. Approach a bend, brake and it downshifts two gears because it knows the corner is coming. Better still, upshifts are almost imperceptible and only very occasionally will you feel it drop a few cogs for another burst of acceleration.
The ride in both the front and rear from the softly sprung Ghost is truly special - but not quite as good as you might think at low speeds, when the 21-inch wheels slap about quite a bit over the ruts, bumps and potholes our delightful roads offer.
So far, so bloody fantastic. But before this turns into a love letter to Rolls-Royce, be warned that when sweeping A-roads roads give way to more challenging B-roads, the Ghost becomes a bit of a fright.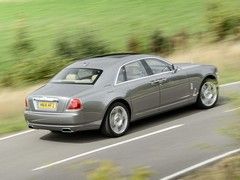 Dynamic Driving Pack doesn't transform Ghost
Diving into the bend it feels unstable under braking; turn in and its lifeless steering feels as though it is cocooned in silk. Confidence-inspiring it is not and, as the road surface deteriorates, you'll need plenty of steering inputs to avoid an expensive brush with the hedgerow.
Extra girth
Swapping from the standard car to a Ghost fitted with the Dynamic Pack it's difficult to see where the hefty £8,000 Rolls-Royce charges for it has gone. The only visual clue is the unwelcome addition of a thicker leather-wrapped steering wheel that's nowhere near as nice as the standard rim.
The disappointment continues with a flat denial that the Dynamic Pack suspension tune had anything to do with the nice people at BMW M. Apparently this is not, repeat NOT, a Rolls running BMW M7 bits.
Instead, the Dynamic-packed Ghost gains a faster steering rack, new redesigned struts and quicker acting dampers. The spring rates remain the same - which all seems underwhelming on paper, but immediately the Ghost feels far more assured and precise on the move, especially when the speed is wound up. Attack the same bends and there's renewed confidence. Enough to encourage your correspondent to switch off the ESP ... for all of five seconds. Out of a slower corner the inside wheel lights up leaving plumes of acrid smoke and given the space required should it slip sideways the stability control is rapidly re-engaged to prevent an entire county being wiped out.
It's in the same slower bends where the Ghost betrays its mass. Despite the new suspension tune, the issue remains with the stability on the brakes. If you're ordering a Ghost the Dynamic pack is a must-have, but would you have one over the similarly priced Bentley or Aston Rapide?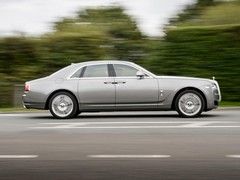 Ghost or Mulsanne? Tough choice
It's a difficult one to judge for a man who would be bankrupted just by ticking the option box for the lambswool rugs, or even by a couple of tankfuls of unleaded at the 16mpg we were averaging. But after experiencing the sense of calm and well-being the Rolls-Royce delivers, I'd certainly choose a Ghost over the
. I'd even sacrifice the far sportier but frenetic character served up by the
Of course, to avoid having my head run over by a Ducati Monster rider, I must mention the Ferrari FF. This would be the most obvious choice for folk like us but while being blown away by the Ferrari wagon's incredible performance, V12 soundtrack and supernatural cross-country pace, I'd miss the Rolls' ability to lower my heart rate.
We came looking for a sports car and didn't find one. Instead, we found something far more special; a proper Rolls-Royce.

---
ROLLS-ROYCE GHOST SERIES II
Engine: 6,592cc V12 twin-turbo
Transmission: 8-speed auto, rear-wheel drive
Power (hp): 563@5,250rpm
Torque (lb ft): 575@1,500rpm
0-62mph: 4.9 sec
Top speed: 155mph
Weight: 2,470kg
MPG: 20.2mpg (NEDC combined)
CO2: 327g/km
Price: £216,864