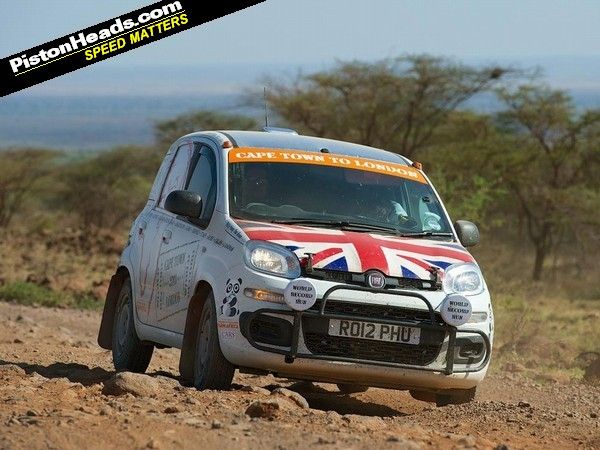 If ever there was any doubt about the
Fiat Panda
's ruggedness, it just evaporated with the news that two Brits have driven one 10,000 miles from Cape Town to London, breaking the record for doing so in the process.
Young & Brace celebrate at the finish line
The Brits in question – Philip Young and Paul Brace – took 10 days, 13 hours and 28 minutes to do the trip, breaking the previously-existing record by more than a day. And rather than taking something obvious, such as a Land Rover or Cruiser, the pair opted to complete the challenge in ... a Panda.
Now, the initiated will be aware that that wasn't such a bad plan. The Panda's light, economical and nimble, making it an ideal partner for this challenge. The car was apparently showroom specification, with the exception of an extra fuel tank, two spare wheels, sump guards, strong springs, and a relocated air intake. Oh, and a foam mattress across the back seat for the co-driver to catch the occasional zizz.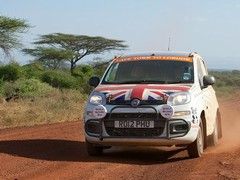 Panda proved an ideal chariot
The route – 10,300 miles in all – took Young & Brace from South Africa, through Botswana, Zambia, Tanzania, Kenya, Ethiopia, Sudan, Egypt, Libya and Tunisia, then across the Mediterranean to Italy, into France, and finally across the channel to the finishing point at Marble Arch. And the reason for such madness? Simple, really – to raise money for, and awareness of,
Farm Africa
– a charity that works with families in rural Africa, helping them to produce food more effectively by providing training and support to farmers.
So, a slightly daft deed for a good cause. Such things we can only celebrate here, so hearty congratulations to the pair, and of course, to the Panda, for making it (relatively) unscathed.
You can read more about the team's exploits at their website.