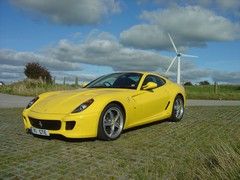 Current 599 production has now ceased
The increased potency of
the new Ferrari FF
(measured against the outgoing 612 Scaglietti) means the company's next generation front-engined GT will be even more hardcore.
Using a further evolution of the latest gasoline direct injection V12 that's good for 660hp in the new Ferrari FF, the 599 replacement due next year will likely run to more than 700hp in order to maintain the sort of power differential that Ferrari feels is appropriate for its range-topping front-engined GT car.
And while the new part-time 4x4 system employed by the Ferrari FF would be compatible with the new car (it's basically an extra two-speed gearbox module added to the front of the V12 crankcase), we've got a definite steer that the purist rear-drive configuration will be retained.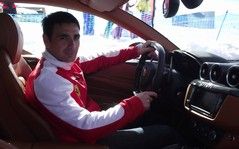 Raffaela at the Ferrari FF launch
There is potential for the 4x4 system to appear elsewhere, but never on Ferrari's 'ultimate' sporting machines, we're told, and never as a 'bolt-on' addition to an existing model. (So perhaps we must speculate all the way forward to a California replacement before we expect to see it again?)
All the above has been distilled from informal conversations with various Ferrari bigwigs at the FF event last week, including engineering concept boss Franco Cimatti and factory test driver Raffaele De Simone.
Raffaele also hinted the 599 replacement will be notable for adopting weight-saving tech, but that we shouldn't expect to see anything as radical as extensive use of carbon fibre in the new car's vital underpinnings.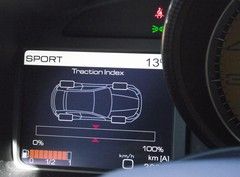 No 4x4 for new 599, official! (Unofficially)
"The history of aluminium is not finished yet," he quipped, while maintaining that full carbon fibre structures are still not economically viable for build volumes of more than two or three cars per day.
No official date has been confirmed for the 599 replacement's launch, but production of the outgoing car has already been halted as the factory is now building the limited edition SA Aperta in its place.
The video clip below shows a prototype of the new car on the test track.