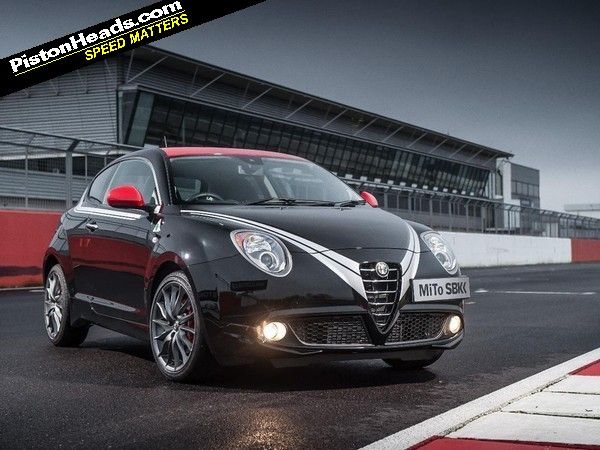 There's a new Alfa on the block, and it's a quick-ish one, too. It's a special edition based on the
Mito Quadrifoglio Verde
, and it'll be called the SBK, which will allow it to vie with the Mini Cooper John Cooper Works GP for the title of longest hot hatch name ever.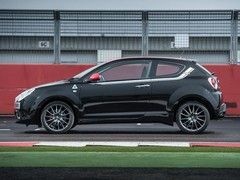 Decals inspired by '70s American TV shows. Maybe.
It's been produced to celebrate Alfa's association with the World Superbike Championship – the company is the title sponsor of the series, and also supplies safety cars. And, say Alfa, this is the 'closest ever activation of the long-running partnership.' We're not entirely sure what that means, but if the result is a hotter, more focussed Mito, as befits the edge-of-the-seat nature of bike racing, then we're all for it.
What's that? It isn't? Oh. No, it seems the changes to the ARMQVSBK run to a new bodykit, a slathering of decals (which, from the side, put us in mind of David Starsky's Torino), a black-and-red paint job and a set of 18" alloy wheels, complete with red Brembo calipers behind. Inside, there's a rather lovely pair of Alcantara-trimmed, carbon-backed Sabelt seats and a spot of extra kit. But engine changes are notable only by their absence, which means the SBK gets the same 170hp 1.4-litre MultiAir turbo as the standard car. That's no bad thing, as it's a decent little unit, but the lack of chassis alterations means you're also stuck with the Mito's slightly uninvolving driving experience.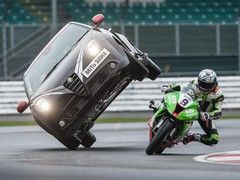 Seems legit.
Nevertheless, in an effort to reinforce the slightly tenuous link between car and bikes, Alfa's opted to launch its new special edition by... er... getting Paul Swift to drive one on two wheels around Silverstone while Chris Walker rides past beneath. As you do.
So, fancy a slice of lengthily-named and bizarrely-launched Alfa hot hatchery? Well, it'll set you back £21,595 – but only 28 SBKs will make it to the UK, so you'll have to be quick. Especially as they'll probably all be gone by the time you've told the salesman the name of the model you're after.