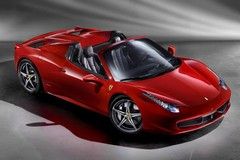 Ferrari has finally lifted the lid (
no more puns like that, please - Ed
) on the new Ferrari 458 Spider, ahead of the car's debut at the Frankfurt show.
As we've reported before, the new 458 Spider features a fully retractable aluminium folding hard top, a world-first (we think, though we're prepared to be corrected) for a mid-engined supercar-ey thing.
The main mechanical vital stats are the same as for the coupe, meaning a 562bhp, 398lb ft 4.5-litre V8 coupled to a twin-clutch transmission.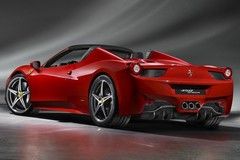 Overall, the 458 Spider is 50kg heavier than its coupe cousin, however, so adds a tenth to the 0-62mph time (3.4secs) as a result, with top speed dropping by 5km/h to 'just' 320km/h (that's 199mph).
The new aluminium hard top can be raised or lowered in just 14 seconds, while the whole unit is actually 25kg lighter than that fitted to the old F430 Spider.
Serious attention has also been paid to high-speed roof-down motoring, with the throttle mapping, spring and damper rates, and even the soundtrack being tweaked specifically for open-top motoring.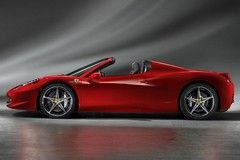 The rear of the car also has aerodynamic 'buttresses' that are designed to optimise the flow of air over the car's oily bits, while an adjustable electronic 'wind stop' that, says Ferrari, allows 'normal' conversation with the roof down even at speeds of 125mph.