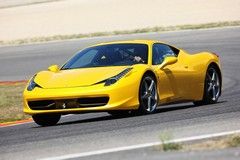 Not the 458 Spider...
Word has reached PHHQ that the Ferrari 458 Spider will have a trick folding hard-top, rather than the cloth roof worn by its predecessor the F430 Spider.
A folding hard-top 458 has been the subject of much speculation, especially in light of the Ferrari California's folding metal roof. It was thought for the F430 spider that a folding hard-top was too heavy and complex, but it seems Ferrari has solved these problems for the drop-top 458.
Our trusty mole was pretty thin on details, but it seems that the transparent engine cover of the coupe has been dropped, although the 562bhp 4.5-litre V8 beneath it remains thankfully unchanged.
We still don't know if the new roof arrangement will be a glass or metal job, however, or whether it will tuck down behind the seats when open, as some web rumours have predicted.
We'll know more soon, though - the 458 Spider is earmarked for a public debut at the Frankfurt motor show this autumn, so we should see pictures and details of the new car some time later this summer.