The California won't be remembered as a great Ferrari, will it? It largely abandoned its sports car heritage without quite capturing the GT market it was aimed at. The situation improved with the Cali T, adding some turbo'd torque to help with relaxed cruising, and the more focused Handling Speciale, but you can't imagine many will mourn its demise.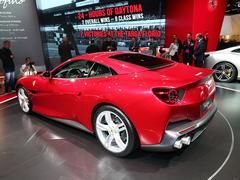 Well now this is better - isn't it?
In its place comes the Portofino, named after the famous Italian coastal town. Ferrari loves the place so much in fact that it gets a launch colour named after it too: Portofino Red.
So what's changed? The chassis for a start, described by Ferrari as offering a "significant weight saving" over the Cali, with an increase in torsional rigidity too. While a weight hasn't yet been issued, it's split across the Portofino 46:54 front to rear.
The 3.9-litre twin-turbo V8 is as seen in the California T, here with new con-rods, pistons, intake and exhaust which, when combined with a "specific calibration of the engine management software", produces 600hp and 560lb ft. In the entry level Ferrari! It does 0-62mph in 3.5 seconds and 199mph...
There are a few dynamic firsts for the Portofino as well, the E-Diff3 and electric power steering, which didn't feature in any Californias, are both here. The magnetorheological dampers have been updated as well, promising "an even more dynamic, responsive car that also delivers superior ride comfort."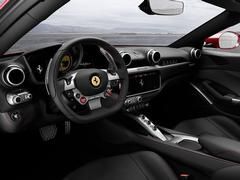 Portofino also gets the larger infotainment screen
While it shouldn't really be PistonHeads' place to comment on styling, to us the Portofino looks a significant improvement on what's come before. It's more assertive and dynamic but still recognisably a GT, not treading on the toes of more expensive Ferraris with its newfound swagger. The official line is that the Portofino "has a sportier character without impinging on its elegance and dynamism."
All sounds rather promising for the Portofino then - perhaps it's third time lucky for Ferrari's attempts at a hardtop convertible GT.