is a right pain in the ass. If it's not the hard shell of the seat that gets you somewhere uncomfortable, it's the buckle for the racing harness. Getting in requires delicacy.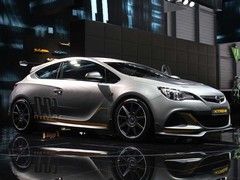 Subtle the VXR is not, Extreme it is
So too, you imagine, does pressing the throttle.After all, it has at least 300hp going through the front wheels. Even regular Astra VXRs are not known for their subtlety of approach, so surely adding more explosives requires a health warning?
Well, the fact it's got racing harnesses, and the hard-shell seats, is probably a good sign here. It suggests a proper job; junking the rear seats for a roll cage, and liberally washing it in carbon fibre, reinforces this. Goodness, it's got a carbon fibre roof - and carbon figure bonnet, front spoiler, engine cover, suspension cross brace, rear wing and diffuser ... even the rear wheelarch vents AND the wheels are made from it.
In all, the saving is around 100kg while lightening the roof from 9.3kg to 2.6kg prompts usual claim of lowering the centre of gravity. With the extra power, this ought to mean exceptional acceleration stats: the reality may well be a struggle to get the power down (despite the high-end HiPerStrut front suspension), but we'd still wager those front Hankooks will bite in and give 5.5 seconds from 0-62mph.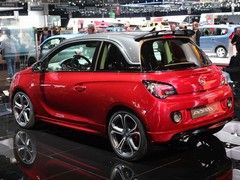 Would you Adam and Eve it; an Adam with attitude
A limited-slip differential will help it round corners and six-pot Brembos will stop it sharply - again, the 19-inch Hankooks will help here, as they apparently give almost as much grip as the Nurburgring Endurance Championship race cars. All they need to do now is confirm it for limited series production and you've got a suitably outrageous way to mark a decade of VXR.
Who are we kidding with the doubt: it's bound to be built (with a £35k price tag - possibly more), and may well even join the Civic Type-R in sniffing out the SEAT Leon Cupra's Ring record (given how it was effectively conceived there and all that). A pain in the ass? Possibly only if you're Honda.
Also on show was the Adam S. 150hp from a 1.4-litre turbo, in a city-sized three-door, has appeal: remember the Renaultsport Twingo? The Ford SportKa? The proof will be in the driving and the Adam hasn't the best of reputations here. But the perfectly slammed suspension, the 18-inch wheels, the choice-spec Continentals and the fact it sports the same gorgeous Recaros as the Corsa VXR (and old Renaultsport Clio) means we live in hope...