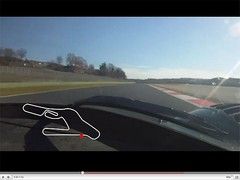 Over the past few months we've been following the progress of Jim Glickenhaus and his N Technologies-developed
P4/5 Competizione
with a mixture of admiration, respect, envy, and increasing amounts of dribble.
And now Jim and N Technologies are at it again, getting us in a bit of a lather with some proper on-track video at the Vallelunga circuit in Italy.
The on-board video also shows a rather less foggy (and faster) test session than the last time we covered the P4/5C - at the Franciacorta circuit in Lombardy. Very pleasant. We can't wait to see the P4/5C take on the likes of Audi, BMW, Porsche and Mercedes at this year's Nurburgring 24hrs.