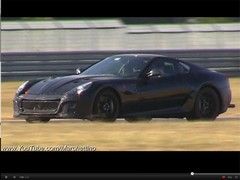 It certainly won't look like this when we see it under the glare of a motor show spotlight (possibly as soon as the Geneva motor show in March next year), but this is Ferrari's replacement for the 599, spotted undergoing testing at Fiorano.
So what do we know about the new car? Well, not a great deal as yet, but it seems that the F152 (for that is its codname ) will have an aluminium monocoque chassis and will transmit its power to the rear wheels via a seven-speed dual-clutch transmission (most likely a relative of the twin-clutch unit used in the Ferrari 458 and California).
Oh, and that said power will come from a 6.3-litre V12 (which will hopefully sound as nice as the unit in this test mule) with around 700hp.