The motor industry doesn't come up with completely new ideas very often. It's not how the club works. Like advertising – or a spelling test at school – the whole point is to be inspired by the works of others. One of the most commonly heard expressions in automotive boardrooms is "we need a [name or rival car], why haven't we got one?"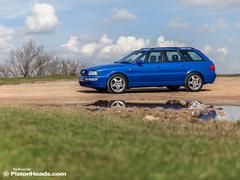 Which is why the Audi RS2 stands out, as a true pioneer. There had been fast estates before it, just – Volvo launched the 850 T5 the previous year – but none like this. The Audi marked the first time anyone made a mega-fast wagon that didn't have a saloon sister. Radical stuff in an era when estate cars were still seen as grubby luggers rather than aspirational lifestyle statements.
Stuttgart's finest
The RS2 was far from a normal estate. When it was launched it was the fastest car that Audi produced, indeed one of the fastest cars in the world. Although based on the bodyshell of the B3 80 Avant it was as much Porsche as it was Audi, the result of a joint venture between the two companies (who had previously collaborated on the 924.) Porsche was responsible for both engineering and construction, with the RS2 built in Zuffenhausen in the same facility that had been previously been used to build its previous Frankenbeast, the Mercedes 500E.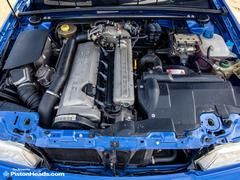 Porsche was also responsible for extracting 315hp from a tuned version of Audi's 2.2-litre turbocharged five-cylinder engine that was crammed, longitudinally, into the engine bay with "Powered by PORSCHE" writ large on its plenum cover to clear up any doubt on that one. The motor got revised internals, a colder intercooler and a bigger turbocharger, with its power output beating that of a contemporary 911 Carrera. Drive was through by a six-speed gearbox – still a novelty at the time - and a tweaked version of Audi's already familiar Quattro all-wheel drive system, with a Torsen differential splitting power between each end and a locking diff at the back (this to help out with any lightweight off-roading the RS2 was called to do.)
Suspension and brakes were significantly uprated, with massive (for the time) 322mm front discs fitted to this car. Evidence of Porscheness is everywhere, from the familiar 17-inch Carrera Cup pattern alloys to door mirrors that seem to have been borrowed directly from a 993. There's another subtle clue on the RS2 badges, which have PORSCHE written on them beneath the Audi rings.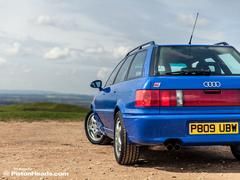 First impressions of this RS2 – which, like the RS4 we borrowed last year, is a member of Audi's heritage collection – is how tall and straight-edged it looks, how much glass there is and how far inboard the wheels are, giving it a teetering stance when viewed from side-on. This was an era when car designers were expected to make windows big and estates boxy. The interior feels very Spartan compared to more recent Audis, although the RS2 must have been one of the first cars to have carbon (or carbon-effect) trim. The blue Alcantara panels on doors and seats are a bit OTT to modern eyes, but the white instruments look great. But my overwhelming first impression is how high the seating position feels and how good visibility is thanks to that low glassline.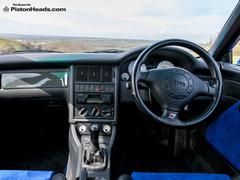 As we noted with the B5 RS4, fast Audis seem to be exempt from the rule that says performance cars feel progressively slower over time, and it's no different here. Autocar managed to figure one from 0-30mph in just 1.5 seconds, a time underwritten by launch ability of the all-wheel drive system, but still quicker than a McLaren F1 over the same increment. Alright, so the Audi would be comprehensively behind by the time it reached 60mph, but from the point of view of Audi fans and pub bores everywhere that didn't matter: this was the estate that could beat the fastest car in the world off the line.
But is it still quick?
It's soon obvious that the RS2 hails from the era when turbos would send a telegram giving a couple of week's notice of their intention to deliver boost. You can count a couple of Mississippis between pressing the acceleration and feeling the boost arrive – this isn't lag so much as laaaaaaaaaaaaag – but once the turbo starts spinning it delivers a shove of acceleration that starts forceful and quickly builds towards violent.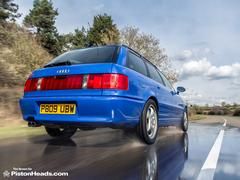 Even in 2016, when power outputs need to start with a '6' to really stand out, it still feels properly quick. 22 years ago it must have been so far off the dial that the needle would come round and hit the stop from the other side. With due deference to the fact the odometer is only showing 1,610 miles and we've effectively borrowed it from a museum I start to work the engine harder, discovering that it doesn't tail off as it gets to the 6,500rpm where peak power arrives. Small wonder that, despite a £45,705 price tag, it became a cult classic even as it went on sale in 1994 and the tiny UK allocation sold out practically overnight. Driving one of these when new must have been like having your own private hyperdrive.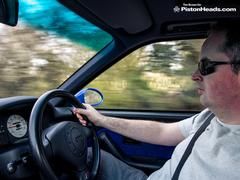 The RS2 is riding on what look to be period SP Sport 8000s, so I hope you'll understand that I didn't give it the full Troy Queef; returning it in anything other than immaculate condition would see a hitman dispatched from Ingolstadt with instructions to return with various of my body parts. But I tried hard enough to confirm that the handling balance feels more neutral than that of the B5 RS4. The limits are predictably lower and the front end starts to nudge wide first, but a dose more throttle stabilises things nicely and helps it to scrabble very effectively around a corner.
Steering is low-geared by modern standards but feels good and the brake and throttle pedal are much firmer than the Audi norm – presumably Porsche's influence. Surprisingly the RS2's suspension feels much more pliant than that of the concrete-sprung B5 RS4 and it copes impressively well with rougher surfaces on our test route around Gaydon. There's more wind noise and road roar at motorway speeds than you'd find in a modern car, but the RS2 still feels like a relaxed, long-legged cruiser. I reckon it could easily triple its current mileage in a week without breaking sweat.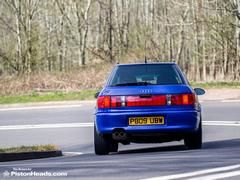 The RS2's usability was its defining trait, but also the limiting factor against its long-term survival. Only 180 right-hookers were built, making this easily the rarest RS model, and many were pretty much run into the ground as they got cheaper. Five years ago you could still pick up hard-used examples for relative peanuts, but these days they rarely hit the market and, when they do, prices have climbed to the extent you're now looking at an investment rather than a car. At the moment there are none in the classifieds and the only one we can spot in the UK is up for £30,000 and wearing 127,000 miles. If Audi ever sold this one its mileage and condition would probably more than double that.
The relative abundance of left-hookers – a total of 2,700 were made – means that there are many more in Europe, and prices are much lower. A trawl of mobile.de produced several attractive looking specimens with this appealing black-with-black-leather, 108,000-mile example in Germany currently listed for 27,000 euros - £20,000 at current exchange rates.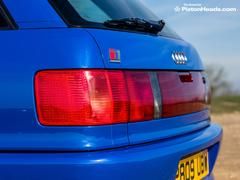 The RS2 was the start of what became one of Audi's best-known model characteristics; the naffing-quick estate that could outperform almost anything with two bored kids asking if we're nearly there yet in the back and a Labrador in the boot. Usually the connection between old and current models separated by several generations feels tangential, more the product of marketing spin than reality, but the RS2 feels obviously related to the most recent RS4, or even the current RS6. This is where it all began.
---
AUDI RS2
Engine: 2,226cc, 5-cyl turbo
Transmission: 6-speed manual, four-wheel drive
Power (hp): 315@6,500rpm
Torque (lb ft): 302@3,000rpm
0-60mph: 4.8 sec
Top speed: 163mph
Weight: 1,595kg
MPG: c. 21mpg
CO2: N/A
Price new: £45,705 (1994)