We're not supposed to like the
. Why is this exactly? The open-top sports car is a long-standing tradition, not to mention the origin of Porsche
Driving with the roof down lends every trip a greater sense of occasion - insert obligatory MX-5 reference here.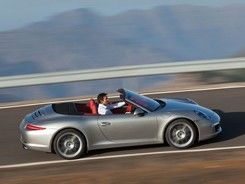 But somehow the 911 Cabriolet is excluded from this rule - theoretically creating a kind of chasm between 'real' 911 owners and those merely in it for the pose. Perhaps it's because the 911 coupe is so good that to detract from the perfection of this celebrated automotive form in any way at all can only be considered a betrayal by the 'true' petrolhead. The cabrio is inevitably heavier and slower and less rigid than its fixed-head companion, inevitably a compromise - even when it's been in the development programme since day one. Or perhaps it's just because the open top 911 always appears a little bit ... ugly.
Does my bum look big?
There's a bulbousness to the rear deck lid when the top's down that's somehow slightly offensive. It makes an otherwise athletic car look overweight, podgy. But with the roof up the 991 will surely draw fewer objections, because Porsche has managed to replicate the silhouette of the coupé with spooky precision.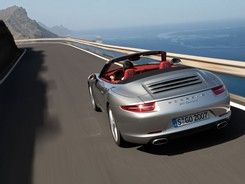 This is largely thanks to a clever new 'panel bow' soft-top design comprising four underlying rigid sections - two magnesium panel bows, the glass rear window and the front roof frame - that slot together to create a smooth exterior surface. The appearance and refinement are improved without adding weight or taking up any more space; the new roof is the exact same 36kg as the 997's.
It takes just 13 seconds to activate, and this is possible at speeds of up to 31mph. Porsche isn't done with the automated trickery there though, since it's also added an electrically operated wind blocker - which can be brought to attention up to 75mph.
If you're getting a sense Porsche is putting convenience ahead of purity here, then the additional luxuriousness of the 991's interior probably isn't going to sit very well with you. It seems to have lost that clinical sporting focus - although in the case of the pale brown 3.8-litre Carrera S manual we sampled first, the overwhelmingly beige finish probably wasn't especially helpful. It was like clambering inside a 400hp chocolate biscuit.
Manual labour
However, the 991 Cabrio weighs up to 60kg less than the 997 thanks to the new aluminium and steel hybrid construction, and despite "18 per cent higher dynamic torsional stiffness". It's 70kg heavier than the coupé, and a couple of tenths slower to 62mph across the board; like its brother it's now available with some very clever electronic driver aids, all on hand to make you go faster.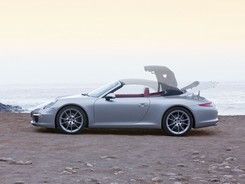 and we can understand why - the pedals are beautifully spaced and it takes away some of Porsche's determined electronic intervention. But on the tortuously narrow and exceptionally twisty mountain roads of Gran Canaria, where it was difficult to get out of second gear, let alone third, the 911 feels weirdly big and the gate a touch clumsy.
The PDK by contrast is razor sharp, and makes the whole car seem more alive to your inputs - Porsche has really gone to town integrating every single one of those electronic assistance systems in the double-clutcher - and the solid metal paddles are gorgeously tactile. Too efficient, though? Perhaps.
It's as if the 911 Cabriolet really is built for big smooth roads and wide open spaces, where you can enjoy its expanded view of the scenery. If you want to drive hard and fast over more challenging surfaces, then that inevitable compromise is going to become more apparent. This is a stiff car for a convertible, but it's no coupé.
Face your demons
And yet, it is still a 911. If you'd rather have that unique rear-engine brilliance and the feel of the wind in your hair, exactly where is the shame in that? Ok, so the front end is less communicative now, but Porsche doing electro-mechanical power steering is better than anyone else we can think of, and this remains a machine built on decades of pedigree and development. It's a class above the majority of its open-air peers.
A highly unscientific hot-footed pursuit of a 3.8 PDK in a 3.4 manual suggests the 350hp car doesn't give much away in reality, at least until you start approaching triple digits - it's a really sweet engine. Be careful with the spec and we can see the lesser model being a hoot. And maybe the best riposte to those who think 911 Cabriolet owners prefer looking flash to pedalling with intent.
---
PORSCHE 911 CARRERA CABRIOLET (991)
Engine: 3,436cc flat-6 (S 3,800cc)
Transmission: 7-speed manual/7-speed PDK, rear-wheel drive
Power (hp): 350@7,400rpm (S 400hp@7,400rpm)
Torque (lb ft): 287@5,600rpm (S 324@5,600rpm)
0-62mph: 5.0/4.8 manual/PDK (S 4.7/4.5 manual/PDK)
Top speed: 178mph/176mph manual/PDK (S 186mph/187mph manual/PDK)
Weight: 1,525kg/1,545kg manual/PDK (S 1,540kg/1,560kg manual/PDK)
MPG: 30.7/33.6 manual/PDK (S 29.1/31.7, all NEDC combined)
CO2: 217g/km/198g/km manual/PDK (S 229g/km/210g/km manual/PDK)
Price: £79,947 (S £89,740)