Though my Fleet updates have been a little thin on the ground recently, that's by no means a reflection on a lack of activity! In fact, I managed to tot up four track days in KN55 HWX last year, which as a newbie really helped me find my feet. Going to Spa back in June really showed what the Trophy is capable of, but it also highlighted the car's weaknesses.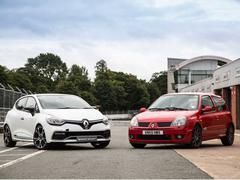 The standard brakes were so feeble they pretty much gave up after the first session. The front Sachs dampers finally decided to retire after 10 years (which is damn good going), so I found myself needing to get those rebuilt as well as sorting the brakes ahead of my next track foray. This was new ground as I was focusing on improvements to braking and suspension for the first time, rather than the usual relentless search for more power.
I started with the brakes, researching what others were running and reading reviews online. A popular set up combines Brembo High Carbon Max grooved discs with Ferodo DS2500 pads on the front. I kept it standard at the rear with a new set of OEM discs and pads. Goodridge braided hoses were added all round for a firmer pedal feel, and some ATE Superblue brake fluid should ensure I don't go boiling it again! A big thanks to George at RTR Parts, who smashed any other price I could find for the lot.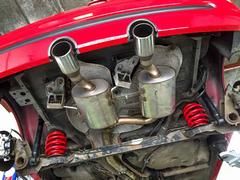 Can you spot the new springs?
Next came the Sachs damper rebuild. There's no set service interval for them, but the seals eventually give up and need to be overhauled. Given the rebuild cost £730, I made a couple of other changes while the dampers were off and my wallet was open... One of the original springs cracked on removal, so I opted for a set of Mark Fish springs; the man maths made sense! They are fairly track focused and drop the car by 10mm. The old rubber top mounts were a bit tired, so these were swapped out for
solid top mounts and its strut brace.
With everything back on and the dampers rebuilt, I was desperate to put it all to the test. Once the brakes were bedded in with some guidance from RTR on the performance pads, I was ready for a B-road thrash around Kent. It finally felt like I owned a Clio Trophy! The improvement in braking and handling was phenomenal; it took a highly capable hot hatch to a laugh out loud B-road rocket. Immediately it felt more planted, more predictable and more eager. The upgraded brakes felt firmer and stronger, allowing me to brake later and harder into a corner, leaning on the Michelin Pilot Sport 3s up front and building grip before turn in. The top mounts and strut brace changed the steering feel, making the front end feel pointier and more alive. The stiffer springs had cut body roll too. I could hardly wait for the my next circuit outing at Oulton Park, full of confidence that the Trophy was ready for its first full-on track day.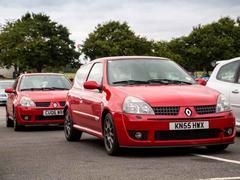 The track day bug has definitely bitten
The transformation was immediate. The brakes no longer felt spongy and weak; they were firm underfoot and stayed that way. The handling improvements boosted confidence and enabled me to push harder each lap, without the fear of losing grip. After a few haphazard laps, James jumped in to show me the lines. Thankfully as it was a Renaultsport track day, I was with like-minded owners and machinery, so there was no intimidation or fear of being forced off the circuit. It's always good to see a few more Clio Trophys too!
I normally struggle to keep hold of a car for six months before I'm bored and need a change, but KN55 HWX continues to amuse with both its performance and cult appeal. I think this one's a keeper.

---
FACT SHEET
Car: 2005 Renault Clio 182 Trophy
Run by: Ben Lowden
Bought: April 2015
Mileage: 82,251
Purchase price: £4,250
Last month at a glance: Brakes sorted, suspension sorted, time for more track days!