Remember that time when the only hot hatch the Internet wanted to talk about was the
? It was right up until the arrival of the Golf R. Now, cars like the latest AMG A45, Audi RS3 and Ford Focus RS have taken further attention away from BMW's hot rod hatchback.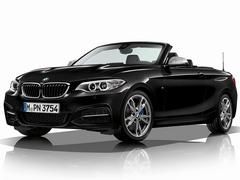 Styling unchanged; good for the 2 Series at least...
Keen to regain some ground, BMW has replaced both the M135i (plus its
coupe sibling) with the M140i and M240i respectively. Thanks to a new turbocharged 3.0-litre straight six, power is up in both cars from 326hp to 340hp and torque climbs from 332lb ft to 368lb ft. BMW says this is sufficient for both hatchback and coupe to hit 62mph in 4.9 seconds with the standard six-speed manual, shaving a few tenths from the old 35i cars. Opt for the eight-speed auto and that sprint time falls again, with 4.6 seconds claimed. Even the Golf might struggle to match that... The M240i Convertible, if you're interested, is said to reach 62mph in 4.7 seconds with the automatic. All are limited to 155mph.
Fuel consumption is improved too with the increase in performance, which sounds like a win-win. The manual cars are officially rated at 36.2mpg and 179g/km (M140i) or 34mpg and 189g/km (M240i), with the automatic 'box offering significant improvements: the figures are 39.7mpg and 163g/km (M140i) or 38.2mpg and 169g/km (M240i).
Pricing still looks competitive though, despite the new engine. The M140i is available now from £31,875, the M240i from £35,090 and the Convertible £38,535. You don't need us to remind you of the plethora of hot hatches available at the same money, or that the BMW is the only one to offer a six-cylinder engine and rear-wheel drive. It's always a tempting proposition! A replacement further depresses M135i values too; they're edging ever closer to £15K...