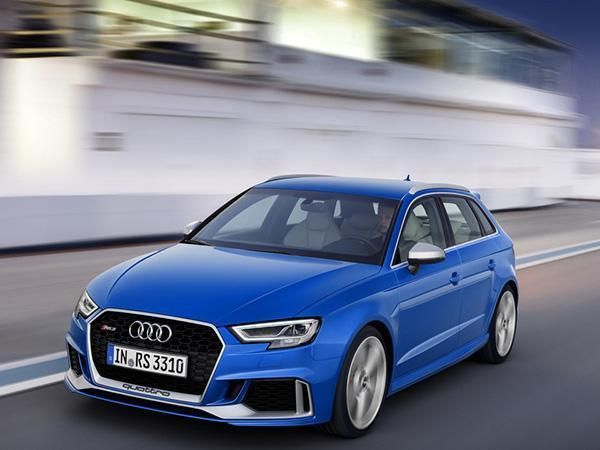 Audi fans rejoice - the RS3 Sportback now has 400hp! This will allow it to claim back the 'most powerful hot hatch' prestige from the 381hp
Mercedes-AMG A45
. The rear-wheel drive
BMW M140i
is lacking slightly in the power and driven wheels department but expect that to be rectified imminently, either at Geneva or soon after.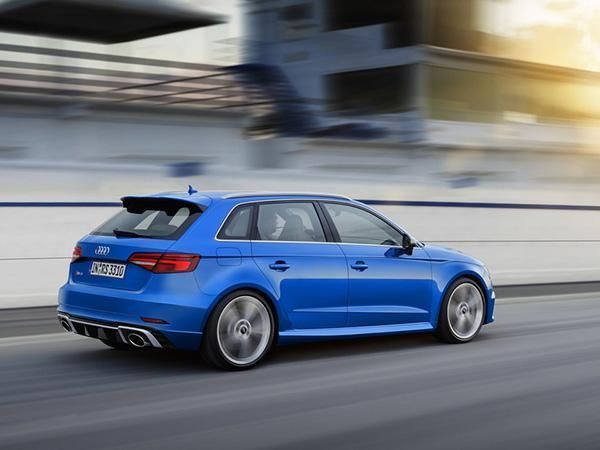 The Sportback now gets the same engine as the Saloon and
TT RS
that was first shown in Paris last year. It is the most powerful production five-cylinder engine, 33hp up on its predecessor and 26kg lighter. With torque up to 354lb ft as well, 0-62mph is now 4.1 seconds and top speed a limited 155mph. That limiter can be optionally raised to 174mph and an RS screen inside will offer torque, g-force and tyre pressure readings alongside the centrally positioned rev counter in Audi's virtual cockpit.
Visually, the RS3 Sportback is 25mm lower and 20mm wider than a standard A3; if desired, customers can tick the box for carbon ceramic brakes up front. The front-end offers an updated and slightly more angular honeycomb grille, redesigned blades in the front bumper and matrix LED headlights are on offer as an optional extra.
"The Audi RS3 Sportback offers our customers an attractive introduction to the RS world and with the new five-cylinder engine, the Audi RS3 Sportback is at the head of its class and continuing that strong track record" said Stephan Winkelmann, CEO of Audi Sport.
Orders start in April and it will be launched in August, with the Sportback costing 54,600 euros in Germany. Expect UK prices soon.