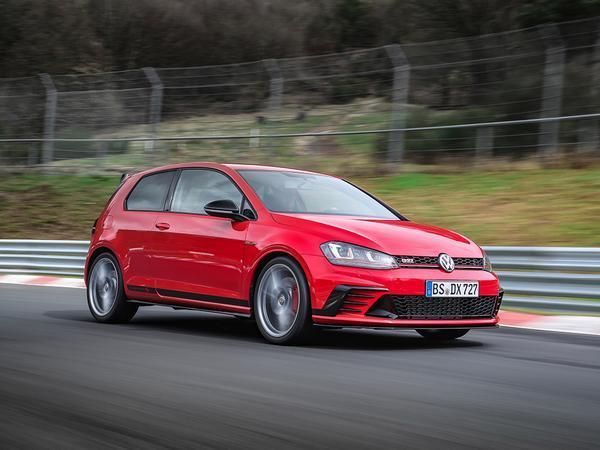 In one of the less surprising news stories you will read this week, Volkswagen has sold all of the 150
Clubsport S
Golf GTIs allocated to the UK. We just can't get enough hot hatches! Remember too that only 400 are being made in total, so that UK share represents a significant chunk of production.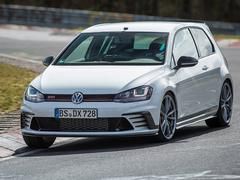 But will any of them be used on track?
Each of the 150 UK customers has paid £33,995 for the car, rather less than was actually predicted. It is, would you believe, cheaper than a three-door
Golf Clubsport Edition 40
with the Cup 2 tyres, DCC dampers and 19-inch wheels. That car, with the manual gearbox, would cost £34,155. That's before you consider the limited-edition status, additional power and extensive suspension tuning of the Clubsport S. If ever a £34K Golf could look good value...
Moreover, the Clubsport S appears to have the perfect combination of attributes for residual success: a limited production run, a VW badge and a Nurburgring lap record. Which will surely be music to the ears of the lucky 150. Previous special Golfs without anything like the wholesale changes of the Clubsport S are still in demand, up to and including the £20K Edition 35 and a 25th Anniversary GTI that has sold with a £10,995 price in the advert. For a decent Edition 30 Mk 5 you're looking at £10K as well. In addition, while the Nurburgring-fettled Renaultsport Meganes were always rarer than this Golf will be, the fact that an R26.R is still nearly £20,000 augurs well for the resale value of the Clubsport S. As an indicator of just how far this front-wheel drive Nurburgring record thing has come in the past few years, the Golf is - by the numbers we have - 28 seconds a lap faster than the Megane. Madness.
Clubsport S customers will have had the choice between Tornado Red, Pure White and Deep Black colours, and whether to add in air conditioning as a no-cost option. Deliveries are scheduled to begin in early October - if you're getting one we'd love to hear about it!