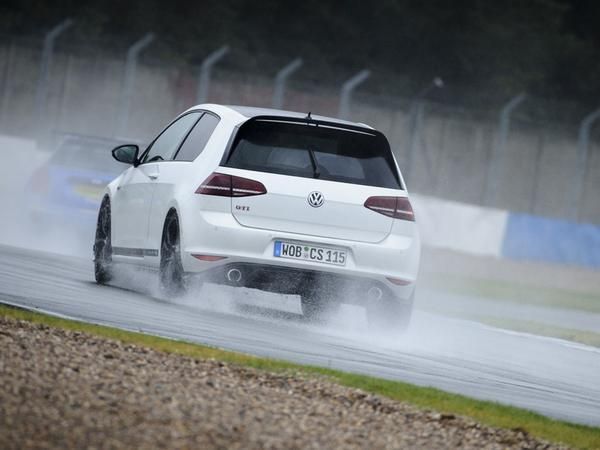 Confession time; I was
wrong about the Golf GTI Clubsport S
. At least in part. Now I've driven it away from the intense pressure, ever present consequence and sheer occasion of the Nordschleife, I've had the chance to peel back the layers and explore its hidden depths. And you know what? It's not quite the docile pussycat I'd first thought. With a bit of space to play and some extended time behind the wheel, it soon became clear that this thing is actually more than a little feral.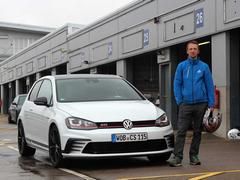 Danny and the Golf versus the great British summer
Last week, at a rain-soaked Donington, I discovered its wild side. Around the 'ring it demonstrated a keenness to turn in, hitting apex after apex, even taking into account my rudimentary track knowledge, while the hot track and those chewing gum Pilot Sport Cup 2s combined to keep it unflinchingly pinned to the Tarmac. Donington couldn't have been more different, with water sheeting off the circuit for much of the day. In these challenging conditions the Clubsport S remained just as predictable and just as friendly as it did in Germany, but the Michelins lost their magical powers and the mechanical grip loosened, nay washed away, to reveal just how aggressive that chassis balance really is. That front end is fully pinned, while in contrast the rear is utterly mobile, and it feels fantastic. Lifts and trails into corners pivots the car around the front axle, the steering wheel naturally relaxes in your hands and you quickly find yourself pointing straight ahead while still en route to the apex.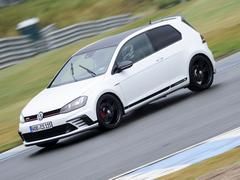 Wet conditions reveal hidden depths
Keep your inputs neat and small and it'll dance its way round a greasy track devouring pretty much anything in its path. Be more aggressive and it'll get very lairy indeed. Consequently it's as enthralling to try and keep neat and tidy as it is to play silly buggers.
What this second drive also underlined for me is just how cohesive and well calibrated the Clubsport S is as a package. All that time spent by the development team, pounding out laps of the 'ring with an engineer in the passenger seat, laptop open, playing with damper and VAQ 'diff' settings, has really paid off. There are no bad manners, no rough edges - everything just gels together, from the steering, to the throttle map to the diff response. This is a polished product, and yet it still grabs you by the throat and gets your heart rate racing every time you drive it. If you're one of the lucky 150 with your name down for one in the UK, you're in for a treat.
Danny
Onboard round Donington in the GTI Clubsport S


---
More on the Golf GTI Clubsport S here with our UK roadtest and videoblog.

---
Thanks to Bookatrack
Photos: Sim Mainey (additional photography by Dan)