The news of an updated Mercedes-Benz S-Class is arguably even more significant than any other luxury car. Here's the vehicle that has brought all manner of new technology to the sector, and the S-Class often gives us a look into the features that will soon become commonplace.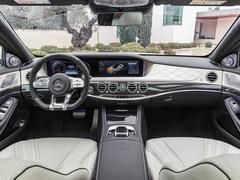 Now if we were to detail every last upgrade to this new S-Class we'd be here until the next one - and there are a pair of 600hp AMGs to talk about - but there are a few worthwhile discussion points. Predictably enough there's a big step towards autonomous driving with this car with Distronic Active Proximity Control and Active Steer Assist now available, adjusting speed ahead of junctions and corners.
Should you wish to take control yourself, the steering wheel is new with touch-sensitive controls. It sits ahead of the 12.3-inch displays seen before, plus a new range of materials for the dash. The optional extended ambient lighting pack now offers 64 colours too, for an added sense of luxury.
But if all that isn't enough, the new S-Class comes with the option of 'energising comfort control'. Said to be a world first, it uses the climate control, the seats and music to "enable a specific wellness set-up tailored to the mood and need of the customer." The six programmes are Freshness, Warmth, Vitality, Joy, Comfort and Training, all of which run for 10 minutes and feature their own backing track stored in the car. If you want to use your own songs then the car will assign them to a programme based on the beats per minute...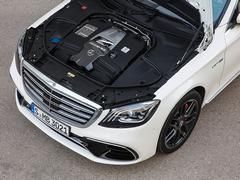 And if that doesn't make you feel well, then there are new engines in the S-Class too. What could possibly be more relaxing than a nice new V8 for your big Mercedes? It's a variant of the 'hot-v' 4.0-litre unit, with 469hp and 516lb ft, plus standard four-wheel drive by the sounds of it. This S560 is joined by the most powerful diesel in Mercedes' history, the 340hp S400d, and the range will be bolstered in time by a plug-in hybrid and a new turbocharged M256 straight six with an Audi SQ7-style 48-volt onboard power supply.
All well and good. But then none of those have 600hp. Or the possibility to do 186mph. Yes, the S-Class range facelift also includes a new pair of AMG cars. The S65 carries over largely unchanged from before, though that does mean 630hp and 737lb ft from the twin-turbo V12. The S63 is where the big changes have taken place; the 5.5-litre twin-turbo V8 has gone, replaced by the 'hot-v' V8 in E63 S specification - so 612hp - with cylinder deactivation and the nine-speed automatic gearbox. Oh yes, and it's rear-wheel drive only in right-hand drive...
In addition, there are one or two weight saving tweaks - the spare wheel recess is made of carbon fibre, don't you know - to keep the kerbweight for the S63 under two tonnes (1,995kg). That's for the 4Matic car though, so the UK S63 should save a little more.
The latest S-Class has been revealed in Shanghai, where it will no doubt be well received. Expect full UK prices and specifications very soon, ahead of a launch at some point later this year.