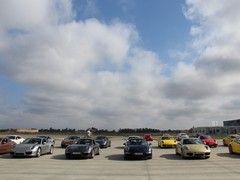 Lots of new 911s, none of them manuals
So after what seems like an age I've finally had my drive in the 991 and, well, you'll have to wait until Monday when the full story goes live. I know, we tease but that's not to say I don't have some stuff to share on the car and what we've been up to out here.
As I wrote earlier in the week I did have some concerns about whether the tech overload on the new 911 was in danger of drowning out the stuff that makes the car special. And this wasn't calmed when I heard all the cars on the launch were going to be S models and, as predicted, fully decked out with all the acronyms Porsche could throw at 'em. Which is to say, a lot. I mentioned the flow chart I had to draw to make sense of them all? Here it is!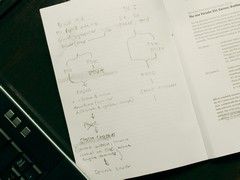 991 chassis options explained - clear now?
Worse still there were only three manuals out of the 20-odd cars on the fleet. Which, given that there's quite a big fuss about this being the first passenger car with a standard seven-speed manual gearbox and, as a result, people might be interested in driving it seemed a bit of an oversight. Cue much tutting from the assembled hacks and slightly fraught faces on the PRs as they tried to figure out how to make sure everyone got a go.
Fear not though, I did manage to get a manual and a decent go with one at that. The mid-way station at an airfield, was base for the day from which cars could be taken out on various local test routes and I managed to bag the manual for this. There were also various classic 911s to sample too, the rare 1986 G series Clubsport prototype especially enticing. It was also handy to have a 997 on hand for comparisons. Not only that, Porsche had actually laid a fresh tarmac handling circuit on an old bit of runway specifically for the launch. Sounds over the top but over 450 journalists will be going through this programme over the couple of weeks it's running so you get an idea of the level of investment.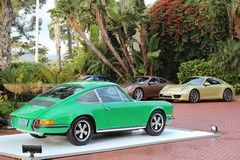 1970 911 face to face with its 2012 equivalent
Thing is, we were among the last of the groups. Which meant, by the time we got there, the local Highway Patrol had become very familiar with the launch routes and when and where to expect hordes of over excited hacks letting loose in 911s. I had two close shaves, one black and white pulling out and booking the car in front and another apparently reading the paper as I approached and after a muffled squeak from my co-driver I managed to bring the speed to an acceptable level as we passed.
Any other teasers? Well, I can comprehensively tell you the new Porsche 911 can corner harder than a Hyundai Accent. How do I know this? Well, after the driver of such a car attempted to match our speed around a tightly turning Freeway exit ramp. Suffice to say, it didn't end well for him.

| | |
| --- | --- |
| 993 and 2,000km 964 among the old 911s | 997 Carrera 4s brought for comparison purposes |
| 1986 Clubsport prototype from the Porsche Museum | Mm, stripey! Old school Porsche goodness... |
| The mythical beast that is the manual 991 | Still the preferred option? Wait and see! |