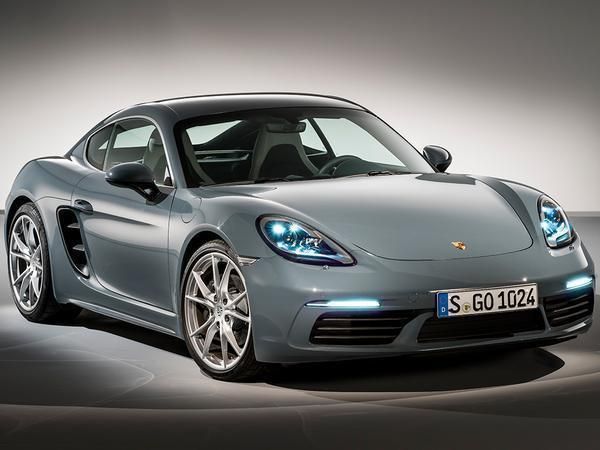 Don't worry, all the big surprise cards have already been dealt by Porsche for this new range of 718 models. The new Cayman isn't now less powerful than
the Boxster
, or offered only with PDK, or suddenly a great deal heavier. This 718 Cayman, by the spec and the looks, is very much how we would have predicted it to be. Whether that's a good thing or not is another matter...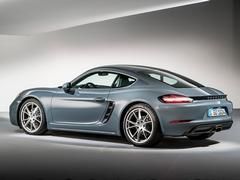 Now the slowest Cayman is capable of 170mph...
So it's the same choice between 300hp, 2.0-litre standard model and 350hp, 2.5-litre 'S'. Again, torque has climbed significantly, the base 718 Cayman producing 280lb ft between 1,950 and 4,500rpm, the S upping that to 310lb ft between 1,900rpm and 4,500rpm. Big, big numbers for Porsche's junior sports car, even with prior knowledge of the Boxster. With the correct options ticked and right foot mashed to the carpet, Porsche claims 0-62mph in 4.7 seconds for the 718 Cayman, dropping to just 4.2 seconds for the S. Top speeds are 170 and 177mph.
The same changes wrought underneath the Boxster are found here too. Damper settings are revised and the steering is 10 per cent quicker, plus both springs and anti-roll bars are firmer in the name of increased agility. Suspension options include PASM (10mm lower than standard), PASM Sport (20mm lower) and Porsche Torque Vectoring with a limited-slip diff. The brakes are larger to deal with the additional performance, the 718 Cayman taking on the system from the old Cayman S and the 718 S using 911 four-piston calipers. Discs are 330mm at the front and 299mm at the rear on both models, although the S uses 6mm wider front discs.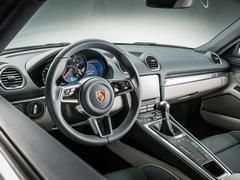 Updates familiar from the Boxster inside too
The styling changes will be familiar - you're getting the theme here, hopefully - to anyone who has spent time poring over a four-cylinder Boxster as well. Same 'floating' rear lights with the script across the middle, same reprofiled intakes to force more air in and same updated front end with a "more purposeful" appearance. An improvement? As always, it's up for debate...
The four-cylinder Cayman is available to order now, priced - as promised - below the equivalent Boxster. That means a 718 Cayman costs £39,878 and a 718 S is £48,834. With the M2 still available to order, BMW's alternative arguably presents a stronger threat than ever at £45K. There will surely be a TT RS in time also. Stretching the price envelope a little (or add a few options to the Cayman) and you're soon into Exige territory, plus there's the Nissan 370Z NISMO, the affordability of which has been proven only this week.
How different will the 718 Cayman be to the Boxster? What will it sound like with a roof permanently on? And just how expensive can you make a four-cylinder Porsche coupe? Answers to (hopefully) follow soon!