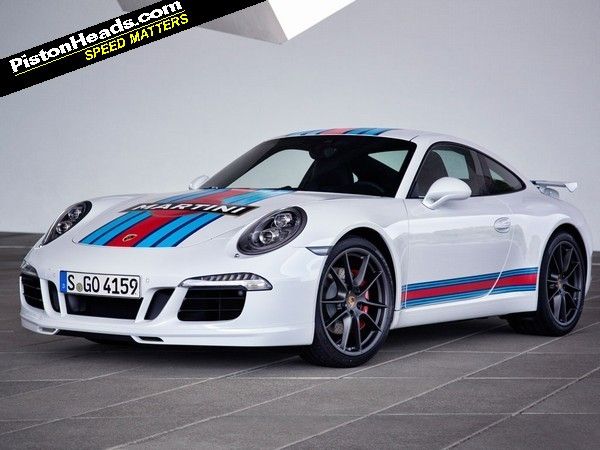 Porsche has announced a limited run of 80 Martini Racing Edition versions of the 911 Carrera S. Developed by Porsche Exclusive, the special edition marks Porsche's return to the top flight
at Le Mans
, as well as commemorating the two brands' previous tie-ups in the 1970s, notably with
the 917
and
935
.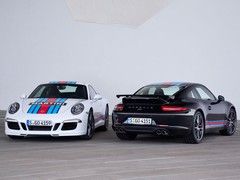 Well, it makes a change from silver at least
The decal pack is certainly extensive (hands up who thinks stopping at the doors would have been fine?), and for the purposes of this exercise will only be combined with either white or black paint. Though if you're really keen, Porsche Tequipment will be offering the stickers as an aftermarket accessory for other 911s. Knock yourself out.
The Martini Racing Edition is more than just a loud set of stripes, however. It also includes the Aerokit Cup front and rear spoilers, standard fit Sport Chrono package, PDK gearbox, sport design steering wheel, Porsche Communication Management with nav, and a Bose sound system.
Open the door, and you'll be greeted by stainless steel sill panels with illuminated "911 Carrera S - Martini Racing Edition" script (presumably just in case it's dark outside and your date doesn't clock the graphics), body-coloured dashboard accents with Martini Racing Edition badge, a black rev counter dial face and all-electric black leather sports seats.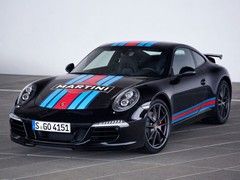 Further booze-themed 911s to follow?
There's no extra oomph under the rear hood, but
being an S
this 911 already punches out 400hp, and the PDK/Sport Chrono combo will comfortably see off 62mph in 4.1 seconds.
That's the good news.
The bad news is we've spoken to Porsche, and been told that just two - two - 911 Carrera S Martini Racing Editions are allocated to UK Porsche Centres, one black, one white. Prices start at £102,862, including the usual three-year warranty and driving course at Silverstone. Buyer with the fastest bank transfer presumably wins.
Cute. But for that money, we can't help thinking a £100,540 GT3 might be a better bet. With or without the built-in barbeque. On the other hand, this (one of three RHD) 930 Martini Turbo is achingly cool. POA indeed.