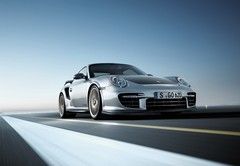 Want one? Too late...
Sold out. It's two words that anybody still hoping to get their hands on a new example Porsche's magnificent GT2 RS will not want to hear. But it's true - all 500 cars have found owners, less than two months after the car was first presented to the public at the Moscow motor show.
Our congratulations if you're one of the lucky ones who have managed to get your hands on the fastest 'street-legal' car Porsche has ever made - enjoy your 205mph, 612bhp and 0-186mph in 28.9secs-worth of Stuttgart goodness.
To those who have missed out (that's most of us, we imagine) - commiserations. But do have a peek at Porsche's promo video of the car, and of our own review of the GT2 RS, and 'take a look at what you could have won', as they say...