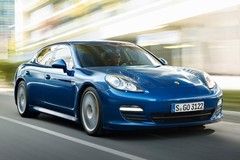 Presumably in part to give its most purist fans something to get hot and bothered about while they wait for the long-wheelbase Panamera, Porsche will put its new Panamera S hybrid on sale in June.
Joking aside, the 374bhp hybrid Panamera will sport the lowest CO2 output of any sporty large saloon (just 159g/km, for carbon footprint fact fans), besting the diesel offerings from the likes of the Jaguar XJ and BMW 7-series ranges.
The running gear is shared with the Cayenne hybrid and combines a 44bhp electric motor with a 330bhp 3.0-litre supercharged V6 that you might recognise from such fast saloons as the Audi S4.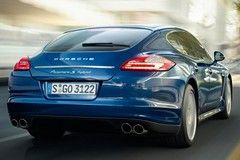 The hybrid can run electric-only up to 37mph, while flat-out performance is 0-62mph in 6.0secs and a top speed of 168mph.
At £86,146, the Panamera S hybrid pitches in between the Turbo and 4S models, but for your extras £3k over the 4S you do get air suspension and 19-inch wheels.
Crucially, of course, you also slip below the threshold of 160g/km that, for tax purposes, means businesses can write off more of the cost of the car. A Porsche as a fleet favourite? Who'd have thought it?