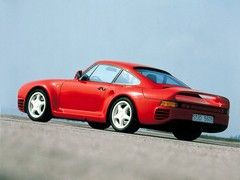 The techno-fest that was the Porsche 959 could be getting a spiritual successor in the next few years, according to Porsche's top man.
In an interview with German magazine Suddeutsche Zeitung, Porsche CEO Matthias Muller wants to plug the gap between top-end 911s and the forthcoming 918 supercar with a successor to the 959 of the 1980s.
You might think the boys and girls at Stuttgart will be busy enough with the impending launch of the new 911, but Porsche's boss clearly has his eye on the next stage in the plan to double sales to 200,000 units in the next few years.
The predictable parts of this plan involve greatly increased technology-share with parent company VW, a four-cylinder Porsche Boxster and the new Cajun mini-SUV.
The less predictable part seems likely to involve a new 400,000-euro supercar that should help Porsche compete with the upper reaches of Ferrari's range - the likes of the 599 and FF.
As for when this will happen, or what form it will take, we simply don't know. But it'll certainly be intriguing...
(Thanks to PHer Steve Welham for the spot...)