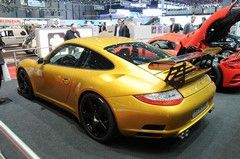 This is the new RUF RT 12 R, a track-focused version of RUF's ultimate 911-based model on show at Geneva this week.
The RT 12 (for 12th generation of RUF-tuned 911 Turbos) has received a power boost for the R model, taking its output to 730hp and torque to 693lb ft. The car receives a prominent rear wing similar to the one fitted to the GT3 RSR race car, and also gets a carbon fibre bonnet and front bumper. Inside, a new grade of steel has been used for the integral roll cage – saving 8kg – and the interior is stripped of luxuries.
According to Alois Ruf this makes the car 'spartanic' which we think we like the sound of, and most suitable to fast lappery at the 'Ring.
The RT 12 is also available in 'S' tune, with 620hp and 605lb ft of torque, and with the option of a PDK gearbox as well as the 6-speed manual.
Also on the Ruf stand is the CTR3 mid-engined supercar (half in shot...), the 8-pot 911 (the RGT-8) and the E-Ruf with retro Targa body.