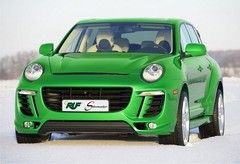 Just in time to take advantage of the zero-rated company car tax band for electric vehicles announced in yesterday's pre-budget report, Ruf, the mad German Porsche tuner, has revealed its second attempt on the theme. It's based on the Cayenne, it's called the Stormster and Ruf says that it's the first all-electric SUV.
Ruf revealed its first eRuf electric car based on the Porsche 911, back in October 2008, but cramming in enough batteries to give the car a decent range was a tough ask. Using the Cayenne as a base gives Ruf's engineers a bit more room to manoeuvre.
Enter the Stormster, or Stormster Grun, should you choose to get your batteries fitted into Ruf's widebody version of the Cayenne (pictured above).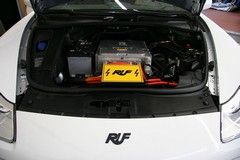 The Ruf Stormster is powered by the same 362bhp Siemens electric motor that also provides motive power for the 911-based electric sports car. Unfortunately, the Stormster is rather lardy, so performance is a little stunted.
In fact, at 2670kg, the Stormster is 315kg (or about three-and-a-half fat people) heavier than the heaviest standard Porsche Cayenne - the 493bhp Turbo. That translates to a 0-62mph sprint of around 10 seconds and 94mph top speed, while the Lithium ion batteries give a 125-mile (maximum) range.
Appropriately, the Ruf Stormster is making its public debut not at a glamorous motor show, but at the European Climate Change Conference in Copenhagen. It just gets more and more exciting, doesn't it?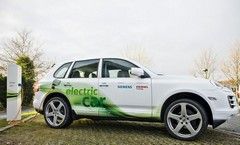 It might not take you days to recharge either - Mitsubishi has just released a fast-charge system that can charge its own
i-MiEV electric city car
(which has the dubious honour of recording the second lowest P.H. O'Meter rating so far) from flat to 80 percent full in 30mins. Okay, so it's not exactly as quick as a petrol refill, but it's getting there...