With the introduction of the S65 AMG coupe, Mercedes now sells four models with its 6.0-litre bi-turbo V12. There are two variants of S-Class, the SL and, amazingly, the G-Class. So much for downsizing and efficiency.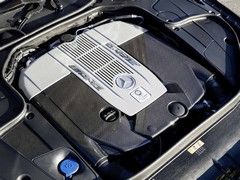 You'd be proud to put your name on this
If the numbers for this engine are becoming familiar they're no less ridiculous. 5,980cc of swept capacity, two turbos, 630hp at 4,800rpm-5,400rpm, 737lb ft from 2,300-4,300rpm. Never has a 0-62mph time of 4.1 seconds been less reflective of a car's performance, or a limited 155mph top speed appeared more inappropriate.
The 12-cylinder car is less overtly sporting than the S63, with a 'host of expressive design elements in high-sheen chrome' and wheels that are more classic in design than the ten-spoke AMG rims. In fact the optional carbon ceramics look rather strange behind these wheels but if the customer demands it...
Much else is carried over from the '63 also including the 7G-Tronic auto, curve tilting and lighter lithium-ion battery. But of course there's an assortment of 'V12 Biturbo' badges to remind all around this is not a measly V8.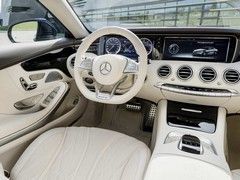 Relax here and ignore the depreciation
The opulence of the range-topping S-Class is most prominent inside with 'an incomparably exquisite ambience' including AMG Exclusive Nappa leather (extending to the grabhandles and roof liner), chromed door pins and illuminated AMG door sill panels. Classy.
Mercedes hasn't yet confirmed a price for the S65 coupe. With the S63 expected to cost around £125K, we'd expect an RRP in the region of £150K for the V12 flagship. And wouldn't you know, a Bentley Continental GT Speed is £152,600. If that seems jolly expensive, don't forget a Mercedes V12's stunning propensity to depreciate. This 2008 CL65 AMG has covered just 33,000 miles and is being sold for £37,995. Ouch.