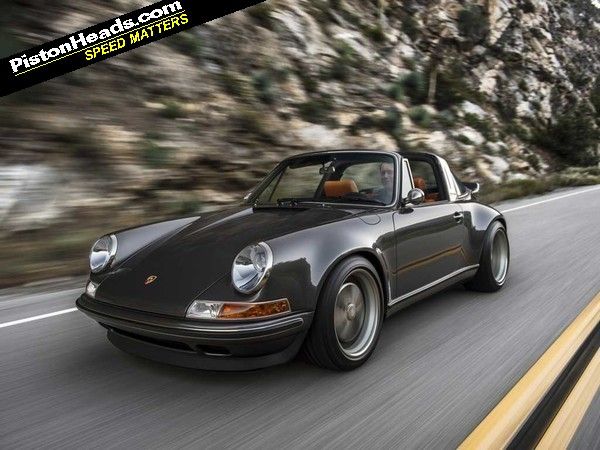 Goodwood, Goodwood, it's nothing but Goodwood! The latest from the Festival of Speed is Singer's update on its cars on display this weekend, the
'Montreal' 911 Targa
and the 'United Kingdom' 911 Coupe.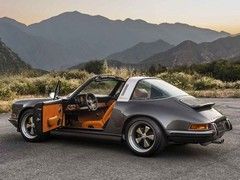 You would compromise for LHD, right?
The Montreal car will probably be the biggest draw, the first 911 Targa presented to Singer for its restoration and reimagination. The customer is said to have wanted both a collapsible soft roof and a one-piece carbon top, something Singer has managed to incorporate. As well as the new 4.0-litre engine
detailed last week
, the Targa also receives Ohlins suspension, Fuchs-style wheels and an interior with leather and suede mixed weave.
And that famed Singer attention to detail? See the Targa hoop rendered in nickel, those raised gold letters on the rear deck and the flawless interior. Oh gosh. Quite something, isn't it?
The plain old 911 Coupe being driven up the hill uses the 3.8-litre flat-six with a six-speed manual. It's also very yellow. This UK car has track seats, a big brake kit and an upgraded stereo. Another must-see on the hill climb!
There's an interesting footnote from Singer accompanying this 911 Targa too. It's entitled 'Pricing and How to Acquire Singer's Services'. Should you be considering a Singer project, set aside 10 months and around half a million dollars; prices begin at $395,000 (£250,000) "to acquire Singer's services to comprehensively restore and optimize the owner's Porsche 911". Apparently most go over $450K, or about £285,000. Best get saving and hunting out a 964 then!
[Targa images: AutoBlog]