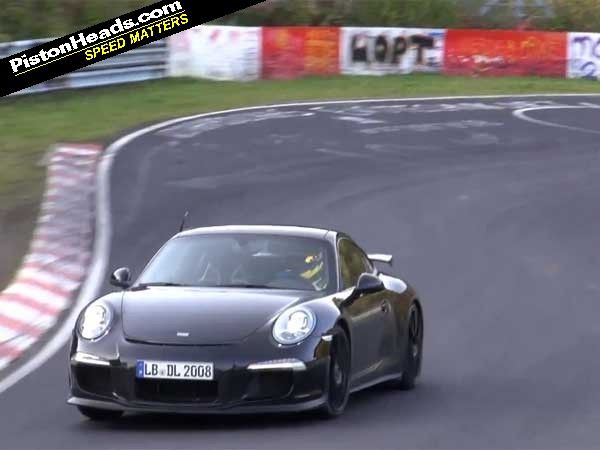 Porsche is working its way through the checklist of 991 variants and, having ticked off
Carrera
,
Carrera 4
and the equivalent S and
Cabriolet
variants we can't be too far off the good stuff. OK, there'll probably be a Targa to feign interest in but, really, it's
the Turbo
and GT3 we're really looking forward to.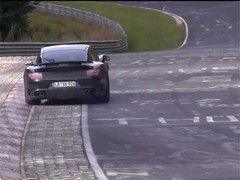 Quad outboard pipes and pop up wing for Turbo
Consider interest in the PH office whetted by
this video
of respective prototypes being given a VERY thorough shakedown at the 'ring by some extremely committed test drivers. Half a turn of opposite lock over the kerbs at Brunnchen in a Turbo? Yep, pretty committed. Interesting to compare how differently the two tackle the same corner too - note how much more mobile the GT3's back end is on turn-in. Suffice to say there are probably worse jobs than this.
So, what do they tell us about the cars? Well, they're clearly extremely rapid but then we'd have expected that. Rumours that the GT3 will be PDK would appear confirmed by the sound of the upshifts early in the video; whether there'll still be a manual option remains to be seen but it's not sounding hopeful. And will it have the 'proper' Mezger engine, like the 991 RSR and Cup cars it's meant to evoke? If that lineage twixt race and road cars is to be maintained we'd have to hope so but given that the 997 GT3 RS 4.0 was meant to be the last with that engine that might be another sacred cow off to the abattoir.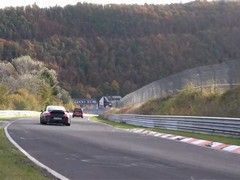 Sounds like PDK for the GT3
Nice to see that the Turbo hasn't been entirely sanitised though; it clearly requires some proper driving to extract real pace and you can see how effectively it puts its power down on the traditionally understeery exit to Brunnchen 2. There's a bit of rumblestrip being used there but you get the feeling the front end is hanging on pretty hard. Hat tip to monsterchannel24 for the video. If you want some stills of the cars check out
this story
on GT Spirit.
Hark, what's that noise? That'll be Mizuno-san's alarm clock. Hope you enjoyed the rest but it looks like it's time to get working on another GT-R update…
[Sources: Monsterchannel 24 via YouTube; German Car Blog; GT Spirit]