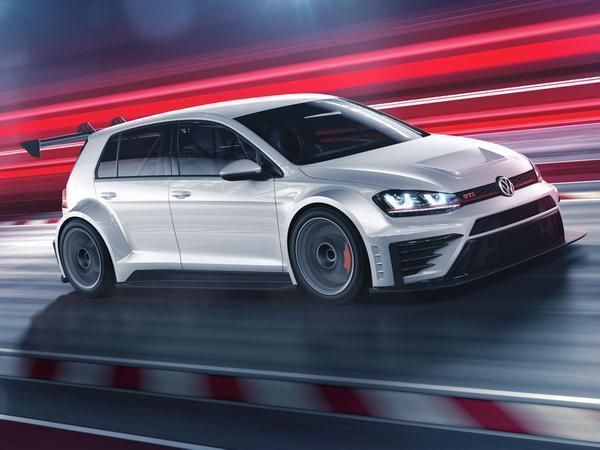 Now if this Golf looks familiar, then your memory is not deceiving you; this is the
Golf TCR
first seen last summer. Except it isn't quite the same, because it's now a Golf GTI TCR.
Mechanically it's unchanged though, with a 330hp 2.0-litre turbo and DSG gearbox. It even looks pretty much identical, with the 40cm increase in width, huge rear wing and front splitter carried over. Sure, there's now a GTI grille, but this is clearly still the same car.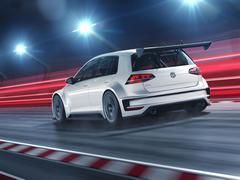 Can we mention the Clubsport again yet?
What's significant about the TCR now though is that 2016 is the Golf GTI's 40th anniversary and, well, that has to be worth celebrating a little more. As well as that, VW Motorsport has now sold all 20 cars allocated for this season. Interestingly there are 16 championships the TCR cars are now eligible for, from a national series across Europe to a USA championship, a TCR Asia event and a class for the cars at the 'ring 24-hour as well. The first test will take place at the Circuit Ricardo Tormo in Valencia next Monday.
Now this all sounds well and good, particularly with some inter-VW rivalry against the Leon Cup Racer, but the TCR does rather show what the Golf GTI Clubsport could have been. A 40th anniversary car in all but name, the Clubsport branding did rather suggest a more comprehensive overhaul than a little more power and a flash of Alcantara. Imagine how it could have been with a 330hp version of the EA888 engine, some proper aero and a stripped out interior. It would have rather stood on the toes of the Golf R, but given VW describes the GTI as "more than just a seal of quality - it is a trademark and an identity" it shouldn't be unreasonable to expect something a little more focused for such an anniversary. A limited edition perhaps?
Anyway, the TCR International Series begins in Bahrain in April, running alongside the F1 race. Given VW's investment and the fact that a Leon Cup Racer won the championship last year, it would be a brave person to bet against the Golf TCR enjoying some success. Perhaps if VW triumphs we can have a proper Clubsport in celebration?
[TCR championship info: Wikipedia]