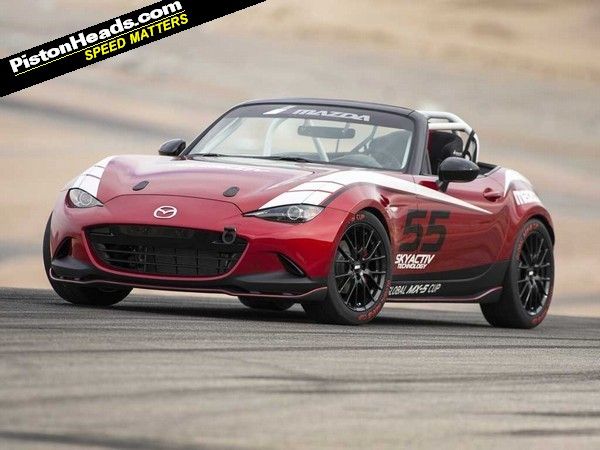 MX-5s make great affordable competition cars, be they for
mirror-tweaking club racers
in cheap to prep Mk1s or more professionally run versions of the current car like the Jota Sport Mk3s
PH drove
in the recent Birkett Six Hour Relay. And Mazda hasn't wasted any time revealing a new competition spec version of the fourth-gen car, unveiling a new Mazda Global MX-5 Cup at the SEMA show in Las Vegas.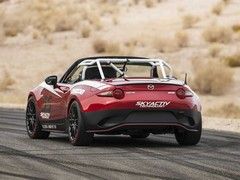 Identical cars for a series of global championships
And if you still weren't convinced by the new MX-5 maybe this will be enough to change your mind. The track ride height, packed out arches, roll cage and subtle aero subtly beef up the MX-5's looks and the Cup racecar looks the proper job. As with the road car Mazda remains cagey about technical specs but has confirmed it'll run a 2.0-litre Skyactiv G (for gasoline) and the final package of tyres, suspension modifications and other upgrades will be confirmed next year after a winter test programme. Once confirmed the race cars will be sold "ready to race" for the 2016 season from what Mazda describes as "a single supplier", yet to be announced.
The new car gives Mazda an opportunity to set that standard to create a truly global competition MX-5, able to run in championships around the world to identical regulations and intended to conclude with a Global Shootout at Laguna Seca in 2016. We've checked the diary already. Guess what, we're available!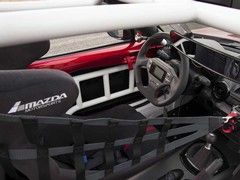 Final spec TBC but already looks the biz
"We're excited to take the elements of success of the existing Mazda MX-5 Cup series, and introduce them to a new global audience," says Masahiro Moro, Mazda's global boss of marketing. "It has long been our goal to see Mazda fans around the world competing in identical MX-5s, and the launch of the 2016 MX-5 Miata is the perfect time to make this goal a reality." He's got a personal interest too, Moro one of the drivers of the official Mazda Jinba Ittai car PH got
up close and personal
with in the recent Tsukuba four-hour media race. We had an informal invitation to go back all the same - sounds like an ideal opportunity for the car's competition debut.