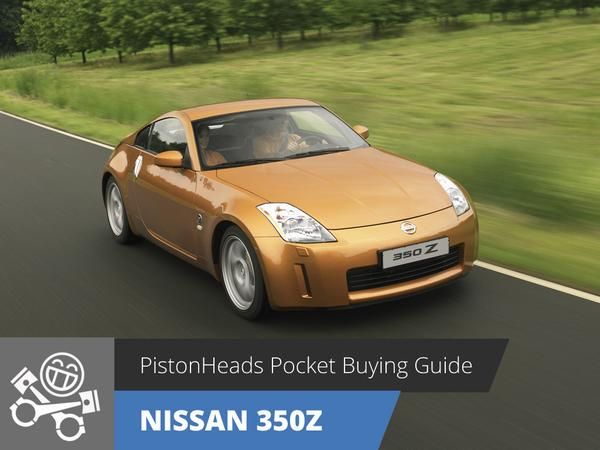 The Nissan 350Z was not only a return to the Japanese firm's sports car roots but also a return to affordable sports cars. With the Audi TT and Mazda RX-8 raking in buyers, Nissan adopted the simple approach of a big engine mounted up front and rear-wheel drive.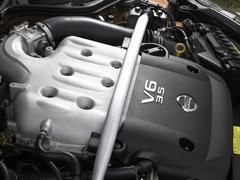 Nissan didn't bother with any pretence of the 350Z being a four-seater coupe. Instead, there was an unashamed brace spanning the rear suspension to mounts to make the car stiffer and help with handing. It was a statement of intent and the 350Z delivered with 0-62 in 5.8 seconds and a top speed of 155mph.
For £24,000, that was bargain performance and the Nissan's responses soon gained it a popular following. The steering is quick to react to driver input, while a limited-slip differential gave it credibility with more serious enthusiasts. A firm ride is no different to what you'd expect of a sporting coupe, while refinement is not as good as an RX-8's but good enough for long distance use.
The 3.5-litre V6 engine also helped thanks to its pleasing burr, though the six-speed manual gearbox has always needed a firm hand to make clean shifts. Brembo brakes take care of stopping and are up to the job on the road, but track day fans will want to upgrade at least the pads but probably the discs too.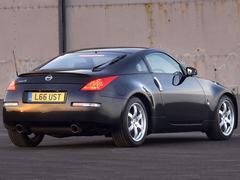 While the 350Z Coupe, and then the Roadster model launched in 2005, came well equipped as standard with xenon headlights, climate control and six-disc CD autochanger, most UK buyers added the £2,500 GT Pack. Most noticeably, this added lightweight Rays alloy wheels, as well as leather upholstery, heated seats, cruise control and a Bose stereo.
Revisions to the 350Z for the 2006 model year centred on more power, so the engine gained 20hp to deliver 300hp at 7,000rpm. However, torque took a small dip to 260lb ft at 4,800rpm from the original motor's 267lb ft. This was the same engine used in the limited edition GT4 model, identified by either yellow or black paint.
In 2007, the best 350Z engine arrived with the 313hp V6 that was 80 per cent new. It revved more freely, lowered the 0-62mph time to 5.5 seconds and required a small bonnet bulge as this engine's induction system added 15mm to the height of the motor.
The 350Z in all its forms is an easy car to use daily, though fuel economy and emissions on post-2005 emission can rack up the running costs. When buying, look out for grey imports, often badged Fairlady or Skyline. They are decent to drive but some parts can be trickier to source than 350Z items direct from Nissan or the various specialists who support this model.
---
Buyer's checklist
Bodywork and interior
GT Pack brings Rays Performance alloy wheels that improve the looks; make sure the car has the rest of the GT's extra equipment
Xenon headlights are expensive to replace, so check for damage
Metallic paint is popular and helps with resale value
Limited edition GT4 models finished in yellow or black; only 174 imported to UK
Roadster's roof doesn't like to operate in cold weather, so warm car thoroughly before lowering it
Fuel filler and boot release mechanisms become reluctant to work
There's an emergency release for the fuel filler under the boot trim
Rear hatch struts weaken with age, but cheap to replace
Engine and transmission
Engines are tough, but the 300hp unit can use up to two litres of oil every 1,000 miles
Services required every 9,000 miles.
Gearbox can crunch during changes as synchromesh wears; most apparent between first and second
Gear lever often buzzes and is a deliberate flaw by Nissan to give the car 'character'
Clutch can need replacing at 40,000 miles and a new flywheel is also likely to be needed, so reckon on a £1,000 bill
Exhausts rust at the rear and many 350Z will have a sportier aftermarket rear section as a result
Clicking noise indicates a worn driveshaft
2007-on 313hp engine is reckoned to be the best for power, torque and economy
Suspension and steering
Engine plenum spacer is a common mod for better breathing. Make sure the original strut brace is fitted or has been replaced by an aftermarket item to preserve rigidity
Roadster weighs 110kg more than Coupe due to extra strengthening that keeps body shake-free
Heavy steering is a trademark of the 350Z, but later 313hp models have slightly lighter feel
The bushes in the front 'banana' arms wear; new bushes are cheap but a whole replacement arm is much pricier.
Rear drop links wear out and rattle, but are cheap to replace
Wheels, tyres and brakes
Suspension is sensitive to tyre choice, so look for a car with premium brand tyres; best choices are original-fit Bridgestones, Avon or Michelins
Rays alloys are very desirable, but watch for kerb damage
Brembo brakes are fine for the road, but the 350Z's weight punishes them on track; K-Sport offers a track day upgrade with eight-piston front calipers and grooved discs.
NISSAN 350Z COUPE/ROADSTER
Engine: 3,498cc V6
Transmission: 6-speed manual
Power (hp): 280@6,200rpm/300@7,000rpm/313@6,800rpm
Torque (lb ft): 267@4,800rpm/260@4,800rpm/264@4,800rpm
MPG: 24.8/24.1/24.1*
CO2: 273/280/280g/km*
Price new: £24,000*
Price now: £4,000 upwards
*Figures for official UK Coupe